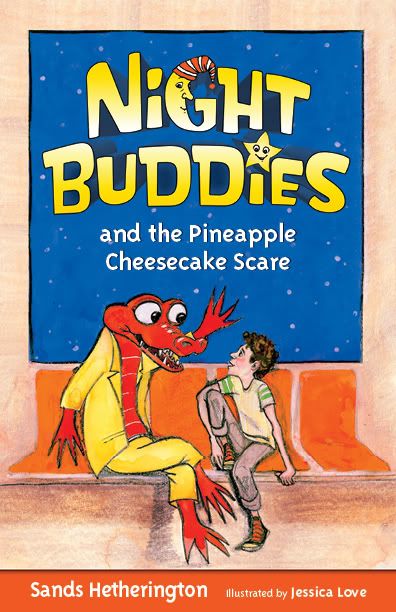 Night Buddies and the Pineapple Cheescake Scare, written by Sands Hetherington, is the story of John
Degraffenreidt and his exciting adventure with a red crocodile named Crosley. John is a young boy who does not want to go to bed. Crosley appears under John's bed and enlists his help for a mission. All of the pineapple cheesecakes from the only pineapple cheesecake factory are disappearing right out of their boxes! John and Crosley team up to investigate the mystery and solve the problem.
My thoughts about the book:
I think this book is a clever story and I really enjoyed the characters. I enjoyed the "voice" the author used in the story and found the characters, particularly Crosley, made me smile throughout the book. On occasion, Crosley uses "Crosley Speak", such as, "Schnorf!" or "Snerk!". I liked that there is a page in the beginning of the book that provides translations for Crosley as well as the Iguanas (the villains in the story). I think the "whatchamacallits", or tools that John and Crosley used in the story, were very inventive. I particularly liked the spider wire that locked the Iguanas in the cave. Lastly, t

he illustrations, provided by Jessica Love, were adorable. I thought she did a wonderful job representing the characters.
More about the book:
Publisher: Dune Buggy Press
ISBN Number: 0-9847417-1-7
Genre of Book: Juvenile Fiction/Readers/Chapter Book
More about the Author:
Sands Hetherington credits his son with being his main motivator. He raised his son as a single parent from the time his son was six. He read to him each night and they traveled all over the U.S. and Canada. The characters of John and Crosley were developed through collaborative storytelling at bedtime.
I am pleased to be able to offer the opportunity for one Tidbits From A Mom reader to win a copy of Night Buddies and the Pineapple Cheesecake Scare! Please fill out the Rafflecopter form below to enter.
a Rafflecopter giveaway
*Disclaimer: I did not receive monetary compensation for this post. I received a free copy of the book for the purpose of this review. The opinions expressed here are my own.