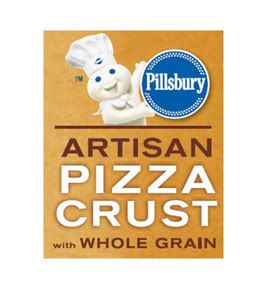 The school year has begun and so has the hectic schedule. Not only has school begun for my daughter and I returned to work, but my daughter also has fall sessions of extracurricular activities beginning this week. Most nights, I attempt to prepare healthy meals for my family. On the chaotic days when I have to pick up the kids, feed them, and then drive my daughter to her extracurricular activities, our meals can suffer. I feel guilty about that.
Pillsbury
is now selling their Pillsbury Artisan Pizza Crust with Whole Grain. You can now create the pizzas you love at home knowing that there are 16 grams of whole grain in each serving. We love making pizzas at home! They're tasty and they're less expensive than buying a pizza at a local pizza place! As a member of MyBlogSpark, my family and I were lucky to have the opportunity to receive a gift pack from Pillsbury. The gift pack contained a coupon for a free package of Pillsbury Artisan Pizza Crust with Whole Grain, a baking sheet, oven mitt, and pizza cutter, and a $10 gift card to be used for our favorite pizza ingredients.
I made this pizza on a night when my daughter had a friend over. It was a simple cheese pizza, nothing fancy. But, it was literally scarfed down in minutes! My daughter's friend had four pieces and both girls were raving about it throughout the meal. Personally, I thought it was delicious and we bought another package of it the other day when we went grocery shopping. I loved being able to make my kids happy and know that the crust contained so much whole grain. I would highly recommend you try it for yourself.
Download your own coupon for $1.25 off one package of Pillsbury Artisan Pizza
I am pleased to have the opportunity to give away a Pillsbury gift pack to one Tidbits From A Mom reader. The winner will receive the same gift pack featured above. Please fill out the Rafflecopter form below to enter.