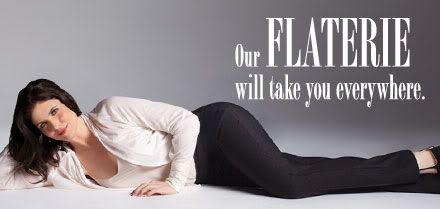 Many of my friends own spanx and use them on a regular basis. I haven't purchased spanx, so I cannot personally attest to them. I do know that although there are times when I would like additional support, I don't necessarily want to wear anything additional under my clothes.
I was elated when I was contacted by
Lisette L
, a Canada-based company that specializes in a pant line that accommodates all shapes and sizes. Lisette L pants are not made with buttons and zippers and can be pulled on easily. The fabric used is made of rayon, nylon, and spandex. This fabric allows women to feel support, but yet still be able to breathe and move easily. Ultimately, these pants slim down your waistline, flatten your abdomen, and support your backside. These positive attributes result in the "Flaterie Fit"! Kathy Lee Gifford spoke about Lisette L pants on the Today Show as one of her favorite things!
I chose to review the
Boot Pant #1635
in black (the Boot Pant also comes in Beige, White, Navy, Brown & Charcoal). Boot cut style pants flatter my legs better and I tend to wear boots and heels to work most often. I was very curious about how these pants were going to fit. I don't typically order pants online unless I know exactly what I am purchasing and how they are going to fit on me. As I unwrapped the pants, I instantly liked the fabric. The fabric is high-quality – the tag states that they are 76% rayon, 21% nylon, and 3% spandex. As you can see from the photo below, I need to wear heels with these pants because they are a little long for me. However, as I mentioned before, this isn't an issue because I always wear heels to work.
I love how these pants fit!! They are so comfortable and I feel like they fit like a glove. I love that these pants can stretch with my body and I don't feel like I need to suck a deep breath in to button. I can relax and just be me. My husband and daughter gave the big thumbs up for these pants as well. These pants are a great addition to my wardrobe!
In visiting their website, I noticed that they do have a "Find A Store" feature, which is great for those of you like me that wish to try the pants prior to ordering online. I was happy to discover that there is a store fairly near my work that sells them – Yay!
I am very pleased to have the opportunity to host a giveaway for one Tidbits From A Mom reader to win their own pair of Lisette L pants! Please fill out the Rafflecopter form below to enter.
a Rafflecopter giveaway
*Disclaimer: I did not receive monetary compensation for this post. I received a free product for the purpose of this review. However, the opinions expressed here are mine and are not influenced by compensation.