I've used Huggies for years with both of my kids. I've always had the utmost confidence in their diapers. Huggies is now selling their new Huggies Little Movers Hawaiian Diapers and Wipes! These diapers are an adorable way to get your child ready for a vacation or should you be having a "staycation", they help to bring the vacation feel to you.
Huggies was extremely generous to send me a gift pack that included the following:
1 pack of Little Movers Hawaiian Diapers

1 pack of Hawaiian Wipes

Beachbag

Small beach ball

2 Hawaiian Leis

Pair of sunglasses

Surfboard Flashdrive

Glass Bottle with Sand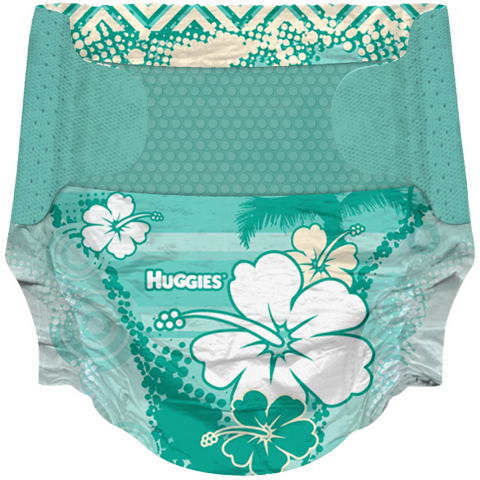 These diapers are so cute! I love the Hawaiian design! The Huggies reputation was upheld and my son was completely protected - day and night. The wipes are awesome as well. Very easy to clean nasty messes - they're durable and yet they are hypoallergenic, so they don't irritate the skin.
More about these diapers from the Huggies website:
Two tiki designs in one pack lets you enjoy this spring season—and make your little one the coolest and cutest around
Get gentle care with the proven leakage protection of the HUGGIES® Leak Lock® System
Pocketed back waistband to help keep in the runny mess
Specially shaped to gently fit little legs — even when they haven't uncurled yet!
All HUGGIES ® Diapers come with the trusted leakage protection of the Leak Lock® System which includes:
Absorbent layers to help pull in wetness and lock it away
Leak guards to help keep wetness in
Grip tabs and a SnugFit® waistband for a secure fit
Huggies was very kind to send us such a great gift pack. Although we'd love to, we aren't going to be going away on vacation anytime soon. We'll be having staycations throughout the summer. To celebrate our summer, my daughter, my son, and I danced up a storm in the T.V. room. We took turns wearing the leis and tossed our little beach ball around. The kids had a great time!
I want to share with you that Huggies is sponsoring the "Cute for a Cause" Program. For each pack of diapers that is purchased, the Huggies Every Little Bottom program will ensure that a baby in need will be diapered for a day.
The kind folks at Huggies have generously offered to sponsor a giveaway for one Tidbits From A Mom reader to win the Huggies gift pack that is featured above! Please fill out the Rafflecopter form below to enter.
a Rafflecopter giveaway
*Disclaimer: I did not receive monetary compensation for this post. I received free samples of the above product for the purpose of this review. The opinions expressed here are my own.