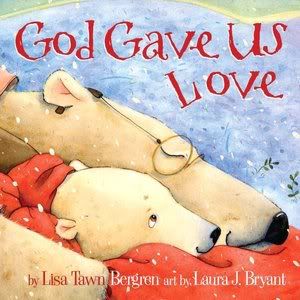 I have been a fan of Lisa Tawn Bergren's books since my daughter was born. The copies we own are hardcovers, which I haven't pulled out of storage for my son yet. Since my son is still young, he isn't always gentle with his books yet. Therefore, we'll definitely be keeping the board books around a little longer!
I was so pleased to have the opportunity to review a board book of Bergren's "
God Gave Us Love
". In this story, Little Cub and Grampa Bear are on a fishing trip. Little Cub is frustrated by the otters scaring the fish away. Grampa Bear uses this time as a teachable moment to teach Little Cub that God encourages us to love everyone – even those that frustrate us. This little board book then delves into the deep issue of love and the fact that there are people we love and "like" at the same time and then there are certainly times in our lives when it's a bit more difficult. The book is illustrated by Laura J. Bryant.
My thoughts about the book: I really enjoy reading this book with both my son and my daughter. Regardless of the fact that it's a board book, there are so many important concepts to think about and discuss with my daughter. I have often spoken with my daughter about the importance of loving others, although I have to admit…this is not an easy thing to do. I have certainly struggled with the concept of "loving thy neighbor".
One of the questions the book discusses that I particularly like is, "Can we do anything to make God not love us any longer?" My daughter completed her first year of CCD this year and needless to say, she had a ton of questions. I think that this question is a great one to talk about with children because let's face it…we all make mistakes...some small, some "doozies". I want to make sure my daughter understands that she is loved despite the "doozies".
Polar bears are among my favorite animals, so personally, I love that the characters are polar bears. Bryant's illustrations using soft watercolors are adorable.
About the Author: Lisa Tawn Bergren is a best-selling author of more than thirty books, including The Captain's Bride, The Busy Mom's Devotional, and the God Gave Us children's book series. She and her husband, Tim, live in Colorado Springs, Colorado with their three children. You can visit her website at
www.LisaTawnBergren.com
or read more about her
here
.
This book is so sweet. It addresses so many questions in such a little book about love and faith. I highly recommend this book to parents to read with their children. "God Gave Us Love" can be purchased at
Barnes & Noble
and
Amazon
.
*Disclaimer: I did not receive monetary compensation for this book. I received a copy of this book from the Waterbrook Multnomah Publishing Group for the purpose of this review. The opinions expressed here are my own.