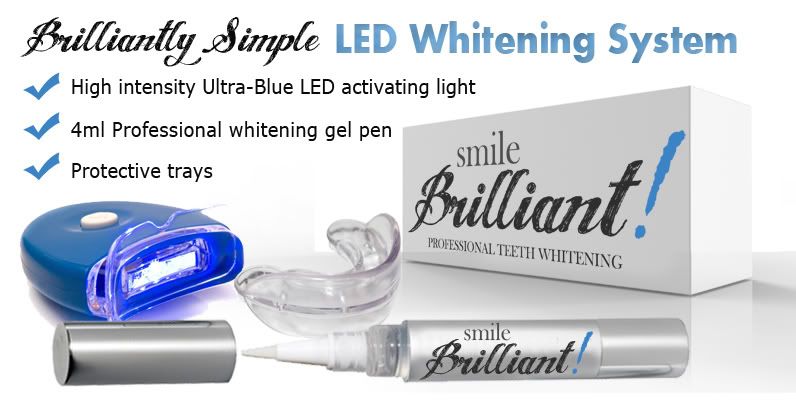 I have been contemplating visiting my dentist for a teeth whitening session for quite some time. My teeth are only slightly stained, but it does bug me. I'm a coffee drinker and my dental hygienist explained that sipping coffee is one of the worst things I can do. Unfortunately, I don't see my bad habit changing any time soon. Therefore, I have been eyeing home whitening kits. There are many from which to choose and frankly – some are pretty expensive.
I was given the opportunity by
Smile Brilliant
to review their Brilliantly Simple Kit, which is an LED home whitening kit. This kit retails for $39.95 and contains a High Intensity Ultra-Blue LED activating light , trays for your teeth, a 4ml Professional whitening gel pen, and a small pink brush to assist with applying the gel.
Customers are instructed to apply the gel on their teeth, place the trays in their mouth, and then insert the LED light and wrap their lips around it to hold it in place. It is suggested to use the whitening system for 20 - 45 minutes per session.
I was excited to receive the Brilliantly Simple Kit. I was eager to view the results for myself, although I kept the thought in the back of my mind that it may not work in order to keep from being too disappointed if there were negative results. I was pleased with how easy the kit is to use - there is nothing tricky about it. I wasn't entirely sure how much gel to apply, but I ended up applying it liberally with each use.
After several sessions of 20 minutes each, I believe that I began to see positive results. I believe that my teeth are slightly whiter. I'm really looking forward to continuing the treatments and seeing how bright my smile will become! I like the fact that I can use this kit so easily from the comfort of my own home for a reasonably low price. I can be doing a treatment while doing laundry, blogging, reading, or watching a movie. I'm all about "killing two birds with one stone" and this certainly allows me to do that! Thank you so much to Smile Brilliant for allowing me the opportunity to try their kit!
Smile Brilliant is offering readers 20% off all products with the coupon code below:
Smile Brilliant has kindly offered to sponsor a giveaway for one Tidbits From A Mom reader to win their own Brilliantly Simply Kit! Please fill out the Rafflecopter form below to enter.
a Rafflecopter giveaway
*Disclaimer: I did not receive monetary compensation for this post. I received a free product for the purpose of this review. The opinions expressed here are my own.