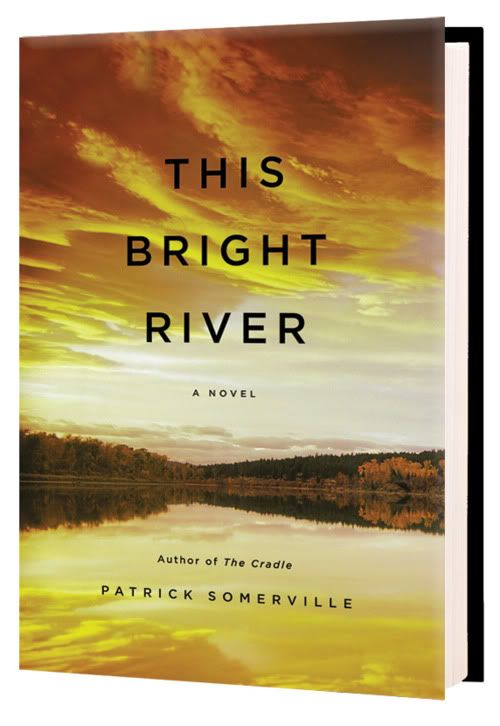 This Bright River, written by Patrick Somerville, is the dramatic story of Ben Hanson and Lauren Sheehan. Ben Hanson is an intelligent man who comes from a wealthy family. Despite his advantages, he has lived his life without true focus and has a history of making poor decisions. He is brought back home to Wisconsin after his father requests that he help prepare his deceased uncle's house to be sold.
While at home, Ben crosses paths with Lauren Sheehan, a former classmate. Lauren returned back home to Wisconsin after leaving her career in medicine and her husband. Ben and Lauren become reacquainted and their friendship turns to love.
My thoughts about the book: The first chapter of this book is intense. I was not expecting to read that initially and because I was so surprised, I was hooked. In terms of the characters in the story, I was frustrated by Ben's lack of aim in life, as is everybody in his life :) In terms of Lauren's character, she has a whole messed up history that is revealed over time which has influenced the woman she becomes. I like Ben and Lauren together as a couple and I was rooting for them the whole time, although wondering throughout the book whether they were going to walk their separate ways at the end of the book. I liked the fact that the book has so many storylines running through it – his uncles death, his cousin's death, his sister's marriage issues, Lauren's ex-husband being a complete psycho…oh yeah, he's nutty. With each chapter, I became more glued and I love this about a great book. I highly recommend this book to you!
About the Author: Patrick Somerville grew up in Green Bay, Wisconsin, attended the University of Wisconsin-Madison, and later earned his MFA from Cornell University. He is the author of the story collections "Trouble" and "The Universe in Miniature in Miniature", and the novel "The Cradle". He lives with his wife and son in Chicago, where he teaches creative writing at Northwestern University.
This Bright River can be purchased on
Amazon
and
Barnes & Noble
.
I am pleased to have the opportunity to be able to host a giveaway for This Bright River. I have THREE copies to give away! Please fill out the Rafflecopter form below to enter.
a Rafflecopter giveaway
*Disclaimer: I did not receive monetary compensation for this post. I received a free copy of this book for the purpose of this review. The opinions expressed here are my own.