Mother's Day is quickly approaching. I love Mother's Day, both in celebrating the fact that I brought two amazing kids into this world, but also to celebrate my own loving mother. Unique gifts make the
best Mother's Day gifts
. Uncommon Goods has amazing gifts for mothers, stepmothers, and grandmothers.
I wrote a review a couple of months ago for Uncommon Goods and when I was offered the opportunity to work with them again, I jumped at the chance. There are so many products on their website that would make wonderful Mother's Day gifts. Personally, I made a mental list of what I would be so excited to receive, including jewelry and new mugs.
There were numerous products, made of copper, in which I had never seen before in local gift shops. Home décor, jewelry, albums, and more – all with copper incorporated. If you would like to learn more about
copper gift ideas
, I highly suggest checking out Uncommon Goods.
Ultimately, I decided to choose one of the
paperweights
to review. My desk at work is lacking in décor. I chose the Five Rules for Happiness Paperweight. This is perfect for a counselor's desk! The five rules include the following: Free your heart from hatred. Free your mind from worries. Live simply. Give more. Expect less.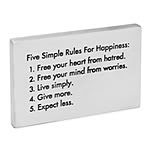 Not only are the five rules great advice for my students, but they are great rules for me as well! Keeping this paperweight on my desk is nice reminder to how I should live my life.
Uncommon Goods has very generously offered to sponsor another giveaway! One Tidbits From A Mom reader will win a $50 Gift Certificate to Uncommon Goods! Please fill out the Rafflecopter form below to enter.
a Rafflecopter giveaway
*Disclaimer: I did not receive monetary compensation for this post. I received a free product for the purpose of this review. The opinions expressed here are my own.