When people ask me to share a fact about myself that most people don't know, I admit that I really enjoy cleaning. For me, cleaning is a stress reliever. I'm not totally weird, there is one room that I don't enjoy cleaning and that is definitely the bathroom! I can't stand the smell of the products and I detest all the scrubbing.
I have been using Clorox products for cleaning for years. I have to admit that I haven't been as "green" as others over the years. However, over the past year, I have been really trying to make a concerted effort to live a "greener" life. I was recently given the opportunity to review Clorox's Green Works cleaning products, including the All-Purpose Cleaner, Cleaning Wipes, Laundry Detergent, and Bathroom Cleaner.
Some facts about Clorox Green Works cleaning products:
Green Works All-Purpose Cleaner - Safe to use on all surfaces in the kitchen and bathroom. It's 97% naturally derived and doesn't leave behind residue or harsh chemicals.
Green Works Bathroom Cleaner - Comprised of plant and mineral based ingredients that can cut through soap scum and stains without leaving residue and fumes behind.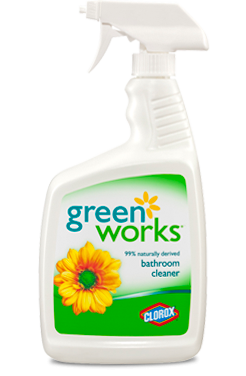 Green Works Cleaning Wipes – 99% naturally derived and safe to use on all non-wood surfaces. These cleaning wipes are 100% biodegradable. Once used, these wipes can be placed in a compost pile!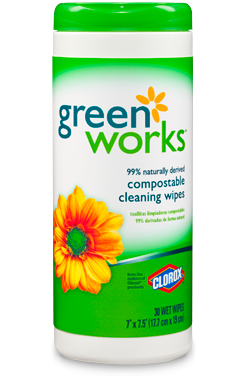 Green Works Laundry Detergent – Dermatologist tested! This laundry detergent does not contain phosphates, optical brighteners, or harsh chemical residue. It is also formulated for standard and high efficiency washers.
My thoughts about Clorox Green Works cleaning products:
I was really impressed with all four of these products. I have been using them for the past couple weeks and I haven't been disappointed in the slightest. They have each held up to Clorox's statements of efficacy. I LOVE that there isn't a harsh smell that is evident with most of the cleansers I've used in the past. The scent is light and refreshing!
The Laundry Detergent left my clothes clean and smelling fresh and the All-Purpose Cleaner and Cleaning Wipes cut through the grime my children leave behind. The product that impressed me the most was the Bathroom Cleaner. My daughter's sinks becomes quite nasty with old toothpaste buildup. I often have to scrub at it to remove all the signs; however, Green Works Bathroom Cleaner cut through it so easily.
There are so many pros to using these products – they're made from natural derivatives, that they haven't been tested on animals, there are no harsh chemicals and/or residues, etc. The only con is that these products cost slightly more. However, this doesn't bother me. If it means that I am achieving a "greener" status, my house is clean, and I am not gagging due to harsh fumes while I'm cleaning, then I'm willing to spend a little bit more to get the job done. I'm actually quite eager to try some of the other Green Works products, particularly the Toilet Bowl Cleaner!
*Disclaimer: I did not receive monetary compensation for this post. I received free samples of the products for the purpose of this review. The opinions expressed here are my own.