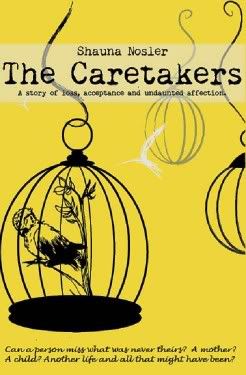 "The Caretakers", written by Shauna Nosler, is the dramatic story of a family that has experienced extreme loss. The book begins with an intense scene that creates the storyline for the book. Readers are then introduced to the main characters of the book – Caroline (11 years old); Jasper Jamieson, her father; Mitch, her cousin, and Aunt Mabel, Caroline's aunt. We hear from the characters and learn their perspective about their lives and their family.
The storyline jumps back and forth in time from 1972 to 1987, again from the voices of the characters. When we are introduced to Caroline and Mitch, as well as Caroline's other cousin Cecil, the author describes how the children spend their summers at The Country House. Caroline has an extremely close relationship with Mitch and their love and friendship is apparent. Caroline and her cousins happen to discover a small white cross, which begins the mystery of who left the cross and why. I don't want to give away the entire book, but readers are brought back in time and learn who made the cross, why it was made, and who it honors.
Sadly, the family suffers additional loss. Caroline has to cope with gut-wrenching grief at such a young age. Caroline's father and her aunt help her to cope with her grief and the bonds amongst Caroline, her father, and her aunt are strengthened.
This book was hard to put down. There were moments that truly gripped me and made me grieve for the characters. There is a moment in the book when Jasper Jamieson, Caroline's father, is considering his life, how he has coped with tragedy and grief, and a particular quote that ended with, "All one knows is there may be no tomorrow". This quote affected me because it's an issue I have been thinking about quite a bit lately. There are so many days in which I am just trying to make it through the day and not really "living in the moment". It's really depressing to think there might not be a tomorrow….We need to live each day fully, which I admit, I haven't been doing. Needless to say, I loved this story and it has given me a great deal to think about in regards to my own family members.
About the Author:
Shauna Nosler is a freelance magazine writer turned novelist. She is an avid runner, reader, and above all else a mother. She lives just outside Indianapolis with her husband, three children and chocolate lab Norman. The Caretakers is her first published book.
I am thrilled to have the opportunity to give away a paper or e-book copy of The Caretakers to one Tidbits From A Mom reader! In addition, Shauna Nosler has generously offered to sponsor a giveaway for a $20 Amazon Gift Card! Please fill out the Rafflecopter form below to enter.
a Rafflecopter giveaway
*Disclaimer: I did not receive monetary compensation for this post. I received a free copy of the book for the purpose of this review. The opinions expressed here are my own.