Have you heard about MaggiesDirect.com yet? MaggiesDirect.com sells fabulous products for you and your home at reasonable prices. What is different about MaggiesDirect.com is that you can shop through social networking shopping! I had never heard of social networking shopping, so this really intrigued me. Essentially, you earn Social Bucks (1 Social Buck = $1.00 on Maggies) for completing various tasks. For example, you earn Social Bucks for inviting your friends to sign up, for following Maggies on Facebook, receiving their newsletter, reviewing a product, and more! Another perk is that standard shipping is always free to the lower 48 states for those with an account!
It is super easy to sign up! Sign up with
MaggiesDirect.com
today and begin earning money to shop!
Maggies is having an exclusive shopping event right now with their Maggies Hotel Collection. Included in this collection are Down Comforters, Synthetic Comforters, Duvet Covers, Shams, and Pillows. As a purchaser, you will earn 50% back in Social Bucks! There is no minimum order and as I mentioned previously, shipping is free to the lower 48 states ($15 to AK/HI and $20 to Canada).
Maggies kindly offered me the opportunity to review one of their Synthetic Pillows. I had the choice of soft, medium, or firm. I chose to review the Soft. This pillow's MSRP is $78.00 - $92.00. On Maggies, you can purchase it for $37.00 - $42.00. This pillow has a 230 thread count and is hypoallergenic.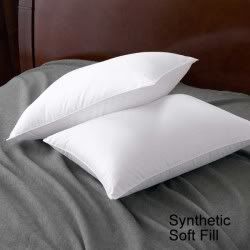 When I first removed the pillow from the box, I was instantly pleased with the fact that I had chosen the soft version (I tend to squish up my pillows at night). During my first "test run" using this pillow, I fluffed and squished this new pillow and it certainly didn't disappoint. I felt like my head was being cradled. At the end of my long, extremely stressful day, I need a good night's sleep. Lately, I haven't been sleeping so well because my old pillow would mat down over time; thus, not provided support for my head. I would get up in the morning and my neck would hurt. I haven't had this problem with my Synthetic Pillow from Maggies. The fibers inside haven't clumped or matted down at all!
*Disclaimer: I did not receive monetary compensation for this post. I received a free product for the purpose of this review. The opinions expressed here are my own.