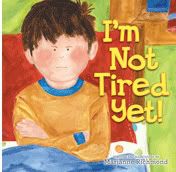 As parents, we hear every excuse in the world from our kids about why they can't go to bed. My daughter and son have certainly given me every line in the book over the years. Bedtime stories are a great way to help your little one settle in for the night as well as give you some quality time together. "I'm Not Tired Yet!", written and illustrated by Marianne Richmond, is a great book to read with children, both those that fall right to sleep as well as the "sleep fighters". I'm Not Tired Yet! is the story of Ralphie Mix, his many excuses of why he cannot yet go to sleep, and how his mother responds to his excuses.
This story is adorable. Ralphie's excuses are the typical excuses a child gives for not being able to go to sleep; however, I just loved his mother's responses! The illustrations that accompanied are sweet and made my children laugh. Many parents, including myself at times, are frustrated by the bedtime ritual and the struggle that it can be. This book is such a sweet way to respond to children. You can get through the excuses and end the day on a happy note with your children. What child wouldn't want a caterpillar tickle or a bear hug? I know my children love them and I'm sure yours do too!
About the Author: Marianne Richmond has touched the lives of millions for nearly two decades through her award-winning books, greeting cards, and other gift products that offer people the most heartfelt way to connect.
*Disclaimer: I did not receive monetary compensation for this post. I received a free copy of this book through the Family Review Network for the purpose of this review. The opinions expressed here are my own.