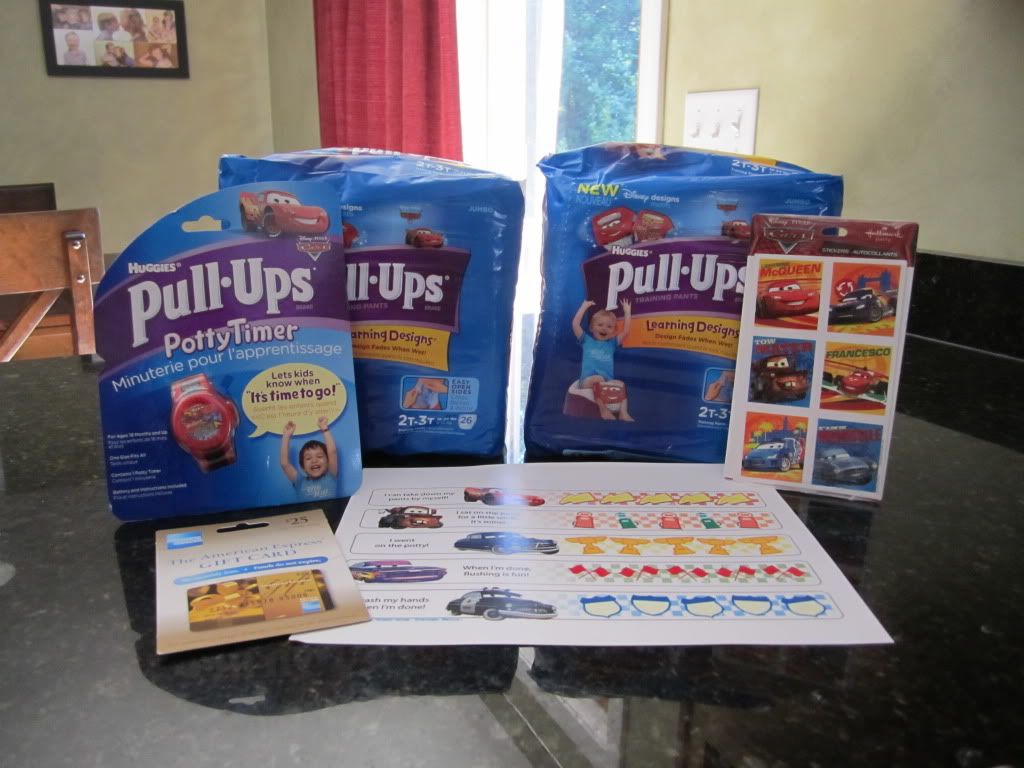 My son began showing interest in using the potty about a month after he turned two years old. We bought him a potty and showed him how to use it. We also began using a couple storybooks with him help in the process. We are hoping (with a bit of praying) that he will be potty trained earlier than my daughter was trained. I know the word is that boys take longer than girls, but I can still try, right?
Many parents, including myself, turn to Pull-Ups to assist in the training process. They are so much easier to use than diapers due to frequent bathroom visits. Pull-Ups was very kind to send me a Potty Break Kit to help me with my son's potty training. Included in the Potty Break Kit were two packs of new limited edition Disney Learning Design Pull-Ups featuring Disney Character Lightening McQueen, a Cars watch to remind my son that he needed to use the potty, a Cars themed success chart to mark progress, Cars stickers to use with the chart, and a $25 American Express Gift Card to use towards more potty training supplies.
My son was ecstatic to receive his new Potty Break Kit because Lightening McQueen is his absolute favorite character. He was happy to repeat over and over again, "McQueen diaper! McQueen diaper!" We hung up the potty success chart in the bathroom right next to his Lightening McQueen potty. I explained the chart and where we put the stickers. I had to hide the stickers because he wanted to use them immediately!
We began using the Pull-Ups immediately. I had requested a 2T because that is the size he wears; however, I found that they were too tight for him. We really needed the 3T. He had trouble with trying to pull them down, which isn't unusual because he doesn't pull his shorts up and down independently either. Since they were too small, I used these Pull-Ups with him only during the day and placed a diaper on him at night. They were completely absorbent and didn't disappoint, which is why I've been a Huggies fan for a long time!
I programmed the Cars wristwatch to remind my son every half hour that he needed to use the potty. This is a quality plastic watch and adorable with McQueen on it. Unfortunately, he loved the idea of the wristwatch but wouldn't wear it for more than five minutes. Therefore, I simply placed it on the table. When it went off, I reminded him, "Ok, time to use the potty". I wish I could say that my excitement was returned in kind…but, I can't. He fought me each and every time, which was discouraging. But, I did not push and make it a battle. He is very young and I didn't want him to view this as a fight and control issue. I'm happy to say that this hasn't been a total failure though! My son uses the potty every single night before he gets into the bath tub. It has become part of his routine and he is so proud of himself when he is successful. Therefore, this proves that he will be successful once we are able to build more potty breaks into his normal daily routine.
In addition to the products mentioned above, Pull-Ups has additional tools to help you with your child's training. When parents visit Pull-ups.com, they can schedule a potty break reminder phone call from Cinderella or Mater. I scheduled a phone call from Mater for my son and he was so excited! He went running for the potty afterwards! Parents can also use the online potty break timer that features either Minnie Mouse or Lightening McQueen. Pull-Ups also polled Moms like us throughout the country and asked them questions regarding the potty training process. Check it out!
The generous folks at Huggies have offered to sponsor a giveaway! One Tidbits From A Mom reader will receive one of the Potty Break Kits featured above! Please fill out the Rafflecopter form below to enter.
a Rafflecopter giveaway
*Disclaimer: I did not receive monetary compensation for this post. I received free samples of the products featured above for the purpose of this review. The opinions expressed here are my own and may differ from yours.