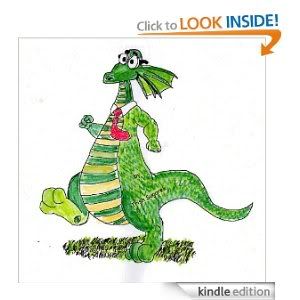 Amazon
has
Stanley the Stalwart Dragon
available for free in the Kindle version today.
Here is the description from Amazon:
"This chapter book is about Stanley, a very young dragon, has run away from home. He feels that he is a failure. As dragons go, he probably is. He's kind, soft spoken, a good friend and can't for the life of him, breathe FIRE! The story is full of wonderful characters. A lady bug, named Persnickety is Stanley's best friend and side kick. Emma, an earthling girl who lives on a farm and plays in the forest, with her magical friends. The loveable villain is a raven named City Slick, the Third. Thomas, the pedantic, sea turtle, and Cheets, the elf, are just a few of Stanley's new friends.

One dark night Slick lures Stanley away from the forest and sells him to the circus. He is left chained, alone in a tent, until he breathes fire. The Queen of the Faeries gives Donald and Emma a quest; to go and find Stanley and rescue him.

While this is an adventure story full of laughter, it teaches children that no matter what, it is never a good idea to run away from home and is frequently very dangerous. The fable addresses bigotry, greed, loyalty and kindness to others. Ages: 3--12"
*Disclaimer: I did not receive monetary compensation for this post.