My daughter is a craft fanatic. I have always admired her for her creativity and I love watching her imagination come to life while she works. She has great ideas – ideas that I would never dream of (I wish I was more like her!) She had a great deal of time this summer to work on many different projects. Many of the projects turned into gifts that she gave to friends and family.
My daughter was thrilled when I told her we were going to have the opportunity to review a few different craft kits from
Creativity for Kids
. We have been fans of their kits for the past few years now. Each year, my daughter receives many kits as Christmas gifts from family members.
Creativity for Kids was very generous to send us the Mossy Meadows Gnome Garden, Deluxe Glitter Art, and Fashion Bracelets kits. I didn't tell her which kits we were being sent because I wanted to see the look on her face when we opened the box. She was so surprised and so utterly happy – it was like it was Christmas in August!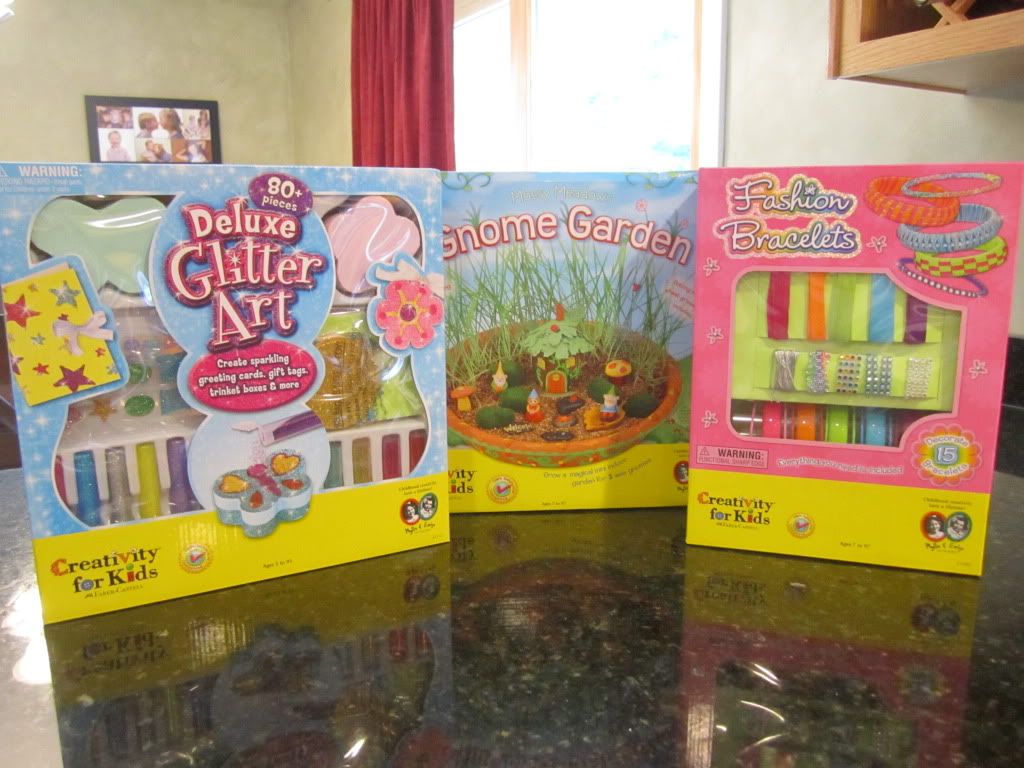 My daughter and her friend dove right into creating the Mossy Meadows Gnome Garden. My daughter and her friend are both eight years old and I think they were the perfect age for this craft. Unfortunately, I wasn't able to take photos of them creating their masterpiece because they took off with the box to complete the craft outside. They kept running inside for various supplies, such as a small bowl of water to wash the paint brush and paper towels because they accidentally got paint on my stone bench (sigh), but I could tell they were having a wonderful time. I also clearly needed to keep my toddler away from them because the kit included many different materials and I was afraid he was going to wreck the craft for them. I do have a couple of photos for you though. The first is of the complete garden and the second was taken after a couple of weeks and some of the grass had grown in. In the first photo, you can see that the girl gnome and one of the boy gnomes are getting married and the other boy gnome is conducting the ceremony.
My daughter prides herself on her fashion sense. My husband and I have always referred to her as out little "Punky Brewster" (I might be dating myself with that reference). She definitely has a "passion for fashion"! She and I sat down together to make the Fashion Bracelets together. The kit includes
everything
needed to create cool bracelets - plastic and thin metal bracelets in various colors, rainbow cord, metallic embroidery floss, satin ribbons, rainbow trim, rhinestone trims, adhesive tape, and even glue and scissors. The kit is large - perfect for playdates or a sleepover. I'm definitely keeping this kit in mind for my daughter's birthday party!
My daughter and I created many bracelets; however, the photo below shows only three. She created several more, but gave them away to her camp counselors :) She and I found them easy to complete. However, I did notice that the satin ribbon didn't hold to the adhesive tape for very long. Therefore, I would recommend keeping the glue nearby.
Last, but definitely not least, my daughter worked vigorously with the Deluxe Glitter Art kit. She made gifts for several family members and door hangers for each of our bedrooms. Having her complete this kit was a bit of a challenge with my son around. His eyes lit up when he saw the glitter pens. I could just envision him getting his paws on those and squeezing all the contents out (laughing the whole time of course!) However, we were finally able to have him coloring next to my daughter so that he felt as though he was involved :)
The Deluxe Glitter Art kit contains glitter, glitter gel, a few trinket boxes, glitter rhinestones, glitter gift tags, printed greeting cards and envelopes, epoxy stickers, ribbon, and glue. As you can see, this kit chock full of materials - again, this kit is perfect for playdates and sleepovers.
Here is a photo of her creations (Two little keepsake boxes and 3 door hangers):

I am very happy to share with you that I have TWO Creativity for Kids kits to give away to ONE Tidbits From A Mom reader! The winner of this giveaway will receive the Deluxe Glitter Art Kit you see featured above as well as a Beach Buddies Shell Crafts Kit
a Rafflecopter giveaway
*Disclaimer: I did not receive monetary compensation for this post. I received the products featured above for free as part of a promotional program with MomSelect. The opinions expressed here are my own and may differ from your opinion.