One of the major things I love about my daughter is how creative she is. She definitely doesn't inherit this trait from me. Regardless of what materials are available, she can whip something up in no time. She has had multiple projects going on this summer and it's been wonderful to watch her at work.
I was presented with the opportunity to review a product from
Colortime Crafts and Markers
, which is a company located in Merrick, NY. Colortime Crafts and Markers supplies customers with the materials to color and decorate tote bags, bandanas, backpacks, t-shirts, and pillowcases with quick-drying fabric markers. Individual items may be purchased as well as bulk items for birthday parties, slumber parties, and Girl Scout activites. The fabric markers are long-lasting,non-toxic and do not require heat setting.
I wasn't sure what item was being forwarded to me. My daughter and I eagerly awaited the package. We were excited to find one of the
tote bags
(100% cotton) in the package when we opened it. My daughter was beginning a summer recreational program and she needed a bag to bring her belongings in. She was excited to be able to decorate it herself. Here are the before and after photos:
I was impressed with the quality of the bag. The fabric is thick with nice strong handles. The markers were quite a bit bigger than I expected, which is nice. So many crafts kits we've purchased in the past have had markers that dry out quickly. The tote bag came with an instruction kit that provided instructions for all of the Colortime products as well as important things to note about the markers and how to wash the products appropriately.
In checking out the Colortime Crafts and Markers website, I was really impressed with the sheer variety of products that they have available and their affordable prices. My daughter still has five more months before her birthday, but she has been throwing around ideas for her party. One of her ideas is a slumber party and I really think decorating a t-shirt, pillowcase, or tote bag would be fun for the girls. They would have so much fun!
I also really liked the fact that their website includes tips and suggestions for parents. There is a page that provides tips on how to create a tie dye effect with markers on the t-shirt. I never would have thought of doing this (hence, my non-crafty nature). Secondly, there is a page that gives suggestions for rainy day activities. Lastly, there is a page where you can register to receive a free coloring page as well as a 15% coupon for a future order.
Colortime Crafts and offers free shipping on orders over $60 within the continental U.S. However, free shipping cannot be combined with any other offers and discounts. Use code FRSH11W to receive free shipping.
Below is a coupon for 15% off your purchase. This coupon expires on November 21, 2012.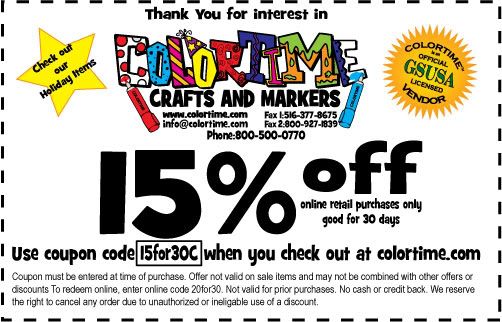 Colortime Crafts and Markers has an ongoing giveaway on the
Facebook
page. It is a weekly giveaway event in which 3 randomly chosen followers will win a package that contains a tote bag and fabric markers (the same as I received for my review and are featured in the photos above). In order to be eligible to win the giveaway, you must "Like" Colortime Crafts and Markers on Facebook. The winners of the contest each week will have their names posted on the wall of Colortime Crafts and Markers page. Winners will also receive an email that they won, which they will need to respond to in order to confirm their win and forward their shipping information. Prizes need to be confirmed within 2 weeks or the prize will be forfeited. Winners are not eligible to win additional prizes for 12 months.
*Disclaimer: I did not receive monetary compensation for this post. I received a free sample of the product featured above for the purpose of this review. The opinions expressed here are my own and may differ from your opinion.