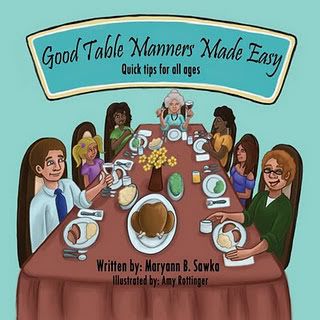 I have a student that I work with that displays extremely poor table manners. He chews with his mouth open, talks while he is eating, and opts to use his sleeve and the back of his hand instead of a napkin, to name just a few. I am constantly providing table manner tips to him; however, they do not seem to be having an impact. I also work with many students on autistic spectrum and they need life skills books read to them that provide concrete information about how they are to behave.
I was so excited to hear about the book Good Table Manners Made Easy, written by Maryann Sawka. I have students that would benefit immensely from reading or listening to a book on table manners, which is not a book that I have found in the past. Good Table Manners Made Easy is a book that comprehensively discusses table etiquette in a way that people of all ages can understand. The illustrator, Amy Rottinger, provides colorful illustrations to support the Sawka's main points and give much needed visuals to individuals, such as my student. Numerous topics are addressed, including hygiene, conversation, and even what to do with your napkin when you need to excuse yourself from the table for a moment.
Regardless of the fact that I am an adult and believe that I display proper table manners, I found it interesting to learn a few facts. For example, I was not aware that there are two different positions for placing your silverware on your plate that indicate whether or not you have finished your meal. Sawka taught me about the "Resting Position" and the "Finished Position". I will remember this the next time that I am out to eat!
This book will be a great resource to use with my elementary students as well as with my own children. It is comprehensive, yet brief enough to hold the attention of a child.
More details about the book:
Publisher: Halo Publishing, Int.
ISBN Number(s): 978-1-61244-046-0
Genre of Book(s): Children's, Self-Help, Etiquette
Publication Date(s): 2012
More About the Author:
As an educator and parent, Maryann has always embraced the notion that good manners are stylish and timely in every situation. She founded Charming Manners, a training company that educates all ages in the quest for civility and self-confidence. Maryann introduces good manners with a fun, engaging approach that makes the pursuit for knowledge an enjoyable experience. She resides in southwestern Pennsylvania with her husband and two daughters. Learn more at
www.charmingmanners.net
.
Good Table Manners Made Easy can be purchased from the following sites:
www.halopublishing.com
www.charmingmanners.net
www.amazon.com
www.barnesandnoble.com
As part of this book tour, I am very pleased to have the opportunity to host a giveaway for one Tidbits From A Mom reader to win a copy of Good Table Manners Made Easy! Please complete the Rafflecopter form below to enter.
a Rafflecopter giveaway