I have admitted in the past that I can be somewhat of a hoarder of books. I have yet to admit my other hoarding passion – photos! I am extremely sentimental about my photo albums. I have albums that span my life as well as albums that chronicle my children's brief lives so far. Amongst my hobbies, I have yet to venture into the world of scrapbooking. I have always been jealous of other women who create elaborate scrapbooks. They are so beautiful and unique! However, I do not have the space to store all the scrapbooking supplies, nor do I even have the money to purchase them right now!
I have a friend whose passion is digital scrapbooking. She was describing it to me last year and I was intrigued with the idea. She brought in an album that she had created for her baby and I was so impressed with the details. I felt that sudden urge I get to try a new hobby immediately (I had the same urge when I began making jewelry). I loved the idea of being able to create my scrapbooks digitally – no supply cost, no storage problem. Sounds perfect for me!
I received the opportunity to review the My Memories Digital Scrapbooking Software and I jumped at the chance. I was eager to see if this software program could help a scrapbooking-challenged woman like myself. Once I downloaded the program and opened it, I have to admit that I had a little anxiety. What if I am not creative enough to use this program effectively? That's my perfectionist side speaking. Then, I snapped back to reality and said to myself, "It's a software program! I can delete it if I don't like it!"
I have to admit that I could easily spend hours using this program. I have years of photos that I would love to embellish and include in an album. However, I chose a couple of my favorites to feature here. As you can see, I haven't done anything fancy to them yet. I was simply taking the time to learn the ins and outs of the program. The program is easy to use and provides so many options for you. You can use one of their many templates or you have the freedom to complete design your own. In addition, the My Memories website has more templates available for purchase.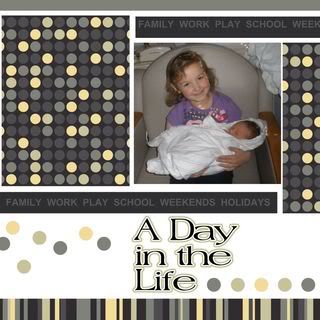 I tried a variety of templates, changed colors, altered boxes, added embellishments, etc. If I didn't like something that I had tried, I simply removed it and started over. No pressure. I loved the freedom of being creative and not having to worry that I was going to wreck it. Again, this
digital scrapbooking software
is absolutely perfect for me!
I am currently working on individual baby albums for my daughter and my son as well as one of my husband and me. I am looking forward to becoming a "digital scrapbooking aficionado" (is that a term?)
DISCOUNT CODE:
Visit
My Memories
and use the code STMMMS94242 to receive a $10 discount off of the My Memories Suite Scrapbook software and a $10 coupon for the MyMemories.com store. That's a $20 value!
I am so excited to be able to have the opportunity to host a giveaway for My Memories! One Tidbits From A Mom reader will win a free copy of the My Memories Digital Scrapbooking Software! Simply fill out the Rafflecopter form below to enter.
a Rafflecopter giveaway
*
Disclaimer: I did not receive monetary compensation for this post.

I received a free product for the purpose of this review.

The opinions expressed here are my own.