My Etsy shop,
Dearheart Designs
, is officially open! I am very pleased to have it up and running. People have been asking me why I decided to close my main website after five years. Why did I do this? First of all, I love Etsy and I think it's a fabulous place to purchase handcrafted items. Secondly, I am going to be selling a limited number of designs for the time being. My hands are currently "in many pots" and I need to focus my attention on certain pieces of jewelry.
Sooooo....I am very excited to have listed my gorgeous Swarovski Crystal Holiday Earrings collection! Included in the collection are Angels, Christmas Trees, Winter Trees, Snowmen, and even The Grinch! These earrings are made with only the finest components.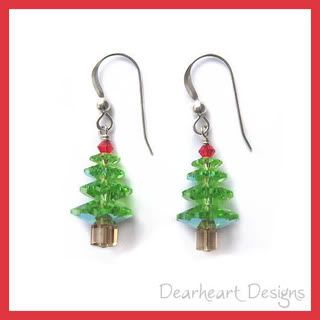 These earrings make wonderful gifts for the holidays! They are unique and eye-catching! Personally, I make them for my daughter's teachers every year.
I am offering all Tidbits From A Mom readers with a 15% off coupon code! Use "
TidbitsReader
" during checkout to receive your discount!