Cleaning out the fridge is one of my many weekly chores. By the time Saturday rolls around, our fridge can be pretty sketchy. The food builds up a bit and leftovers certainly do not smell appetizing! I was introduced and able to review the Oransi Ionic Fridge Air Purifier this past week. The Oransi Ionic Fridge Air Purifier (MSRP $29) purifies the air within your fridge to help remove the smells that build from your various meals and snacks.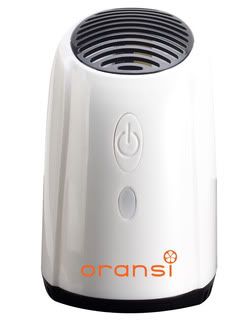 Here is some technical information about the purifier:
•Patented Piezo-electric ionizer (ozone safe - 0.011 ppm, that's more than 78% below the FDA limit)
•Micro CPU controls the operation of the air purifier to cycle between on/off mode
•LED display indicates mode of operation
•Noise Level: Silent
•Dimensions: 4" x 2.8" x 2.5"
•Weight: 0.2 lbs
•Power: 0.1 watts, 2 AA batteries
•Warranty: 1 year
•Certifications: CE, GS, RoHS
When I unwrapped the purifier, I was immediately struck by how small and cute it was. It is small enough to place in the fridge and not occupy too much space to become a nuisance. Once I placed the batteries in and turned the power on, I could hear the faint sound that it was working. I was pleased that there was no loud hum - it really is silent. I placed it on the top shelf and let the little machine get to work!
The Oransi Fridge Air Purifier is easy to use and certainly cost effective. For $29, you can help keep your fridge smelling clean and you can actually keep your produce fresher! This is a HUGE bonus for us because my husband and I toss out so many fruits and vegetables that do not maintain their freshness and therefore, we are uncomfortable eating. Also, replacing two AA batteries every month is well worth fighting the evil smells that can emenate from one's refrigerator!
The final benefit I want to mention is the fact that this little machine is "green", in that there is no filter. So, no worry about negatively affecting the environment!
Oransi has generously offered to sponsor a giveaway for one Tidbits From A Mom reader to receive an Oransi Fridge Air Purifier! Please complete the Rafflecopter entry form below:
*Disclaimer: I did not receive monetary compensation for this post. I received a free sample for the purpose of this review. The opinions expressed here are my own.