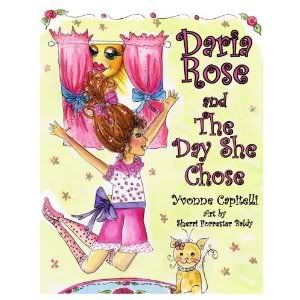 I love finding stories for children that emphasize making good choices, being confident, and overall, encouraging positive character development. I wish I had had books such as these as a child – I could have really used them! I feel as though one of the best things I can do as a mom and counselor is to find books that children will connect to, find meaningful, and hopefully keep in mind for when they are in a similar situation.
Daria Rose and The Day She Chose, written by Yvonne Capitelli, is the story of Daria Rose. Daria Rose is experiencing many different feelings as a result of schoolwork and her interactions with peers. After a conversation with her mother and receiving wonderful advice, Daria Rose approaches each day with courage, determination, and confidence. As a result of Daria's commitment to making smart choices and making up her mind for herself, she is able to change her outlook on life and benefit academically and socially.
This is a fantastic book that captures the insecurities that children, whether boy or girl, experience every day. I am constantly saying to my daughter and students, "Make good choices". This book, although fiction, is a great depiction of the benefits that a child can reap from focusing on making good choices as well as keeping a positive frame of mind. The illustrations are beautiful and the book overall is extremely high quality. This book is filled with meaningful advice for not only children, but for adults as well. I love the fact that towards the end of the book, Daria Rose proposes five questions that she can ask herself, including:
What do I want to happen?
What do I need to do to make it happen?
What am I afraid of and what is the worst thing that can happen?
Whom could I ask to help me?
Will my decision make things better?
These are seriously questions that I can ask myself on a daily basis! I am looking forward to sharing this book with my students. There are so many important ideas, concepts, and feelings that can be discussed.
I was so impressed to learn that a portion of the proceeds of each sale of Daria Rose will be donated to the Children's Cancer Society and the CFIDS Association of America.
More about the author:
It has been a dream of Yvonne Capitelli's to write children's books that build character. Her passion is to inspire young children to make good choices and realize the power they have within. She wants all children to know that they must take control and create their own happiness through how they act and react to different situations. Daria Rose books will inspire then to make good choices, have strong self-esteem, build confidence, courage, strength, determination, friendship and good values. They will be inspired to be thoughtful and thankful.
Thank you very much to Yvonne Capitelli for providing me the opportunity to review Daria Rose and for also agreeing to sponsor a giveaway! One Tidbits From A Mom reader will receive a copy of Daria Rose and The Day She Chose. Here are the details of the giveaway:
Win It: One winner will receive a free copy of Daria Rose and The Day She Chose.
Mandatory Entry:
Please leave a comment below and let me know who this book is for. Please leave your email address so that I may be able to contact you if you win.
Bonus Entries:
1. Follow Tidbits From A Mom publicly on Google Friend Connect. (1 entry)
2. Leave a comment on any of my non-giveaway reviews on my blog and leave a comment and let me know which review you commented on. (2 entries)
3. Visit
Daria Rose Books
and come back here and leave a comment about something you learned or read. (1 entry each)
4. Follow Daria Rose Books on
Twitter
5. Follow me on
Facebook
or
Twitter
. (1 entry each)
6. Enter any of my other giveaways (1 entry each)
7. Share this giveaway on your facebook page and leave me the link. (2 entries)
8. The following may be tweeted daily: (1 entry each day)
#Win a copy of Daria Rose and The Day She Chose! Ends 11/28! @tidbitsfromamom #giveaway http://tinyurl.com/c4nguet
9. Grab my button and let me know where you placed it (3 entries)
10. Subscribe to Tidbits From A Mom through RSS feed or email (3 entries for each)
This giveaway ends on November 28, 2011 at 12:00am EST. *Giveaway is open to U.S. residents. The winner will be chosen through Random.org. The winner will be notified through email and will have 48 hours to respond.
*Disclaimer: I did not receive monetary compensation for this post. I received a free book for the purpose of this review. The opinions expressed here are my own.