Technology in our world today is simply amazing. In addition to relying on my iPad on a daily basis for a vast number of things, I love using it with my children. My son is only 18 months and he is so excited when the iPad is taken out to use. He enjoys tapping the screen and playing some toddler games. But, he is an even bigger fan of listening to stories on the iPad!
PicPocket Books
provides mobile picture books for the iPhone and iPad. With bright, colorful pictures and interactive screens, your child will be instantly captivated! A variety of books are available for instant download, including fiction, nonfiction, toddlers books, and books for older readers.
PicPocket Books feature:
Features:
•high fidelity, full-color illustrations that stay true to the original print book
•high quality audio recording
•highlighted text corresponds with audio – each word highlights as it is read to help new readers understand the connection between words and sounds – excellent for beginning readers or curious pre-readers.
•turn pages with an easy swipe
•stories downloadable directly to your device, anytime, anywhere, on-the-go.
I was lucky to be able to review three PicPocket Books. I reviewed Snuggle Mountain, Tractor Mac Builds A Barn, and Baby MEDBasics PLUS HD. I have to tell you I was so impressed with these books. Not only do I think that the stories are absolutely adorable, but what a clever idea! You can take out your iPhone or iPad and instantly entertain. I need this when we are at the doctor's office or in a restaurant waiting for our food and my son isn't cooperating!
The stories are read to your child and the words are highlighted as you read along. The pages are interactive as well! In the beginning of the story, there is a page which tells you what to touch in the story to hear hidden sounds. For example, in "Snuggle Mountain", you can touch the dog and cat to hear both of them while the story is being read. So cool! The illustrations are absolutely adorable as well.
Both of my children thoroughly enjoyed these books. My daughter is more of a fan of Snuggle Mountain and my son adores Tractor Mac (he loves tractors and all the farm animals). They love the interactive feature and being able to hear the additional sounds. My son does get a little overzealous and starts flipping the pages before hearing the story, but he is only 18 months, so that is to be expected. My daughter also enjoys turning the sound off and reading the books on her own to herself and to her brother as well.
The Baby MEDBasics PLUS HD is an educational tool for adults as well as an emergency manual. It provides basic information regarding allergies, bites and stings, bleeding, burns, choking, CPR, falls, fever, poison, and rashes, as well as tells parents what to do in case their child is having signs and symptoms. I love the fact that you can reach the information so quickly if need be. If my child may have been poisoned or has had a bad fall, I do not want to have to go upstairs to the bookcase, try to find the right book, and then find the right page. Or, even worse, I do not want to have to take the time to Google the information. I want the information at my fingertips. This book definitely provides that. It states that it is for babies that are infants to one year of age; however, there is certainly information in it that can be used for toddlers and older children.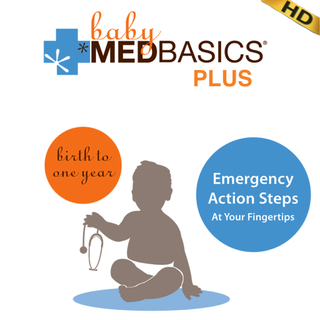 I can't rave enough about these books. They are adorable and so cool. There are many to choose from and are so affordable! They range from $.99 to $3.99 per book! That is such a low price for an entertaining, adorable, and interactive book.
PicPocket Books has offered to sponsor a giveaway for two of their stories! Here are the details of the giveaway!
Win It:
One winner will win TWO free books from PicPocket Books!
Mandatory Entry:
Please visit
PicPocket Books
and then leave me a comment letting me know a book you would love to have for your child. Please leave your email address as well.
Bonus Entries:
1.
Follow Tidbits From A Mom publicly on Google Friend Connect. (1 entry)
2. Leave a comment on any of my non-giveaway reviews on my blog and leave a comment and let me know which review you commented on. (2 entries)
3.
Follow me on
Facebook
or Twitter. (1 entry each)
4. Enter any of my other giveaways (1 entry each)
5. Share this giveaway on your facebook page and leave me the link. (2 entries)
6. The following may be tweeted daily: (1 entry each day)

#Win TWO free books from PicPocket Books! Ends 10/22!
@tidbitsfromamom #giveaway http://tinyurl.com/63t6vko

7. Grab my button and let me know where you placed it (3 entries)
8. Subscribe to Tidbits From A Mom through RSS feed or email (3 entries for each)
This giveaway ends on October 22, 2011 at 9:00 pm EST. *Giveaway is open to residents in U.S. and Canada. The winner will be chosen through Random.org. The winner will be notified through email and will have 48 hours to respond.
*Disclaimer: I did not receive monetary compensation for this post. I receive free samples for the purpose of this review. The opinions expressed here are my own.