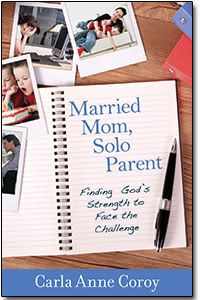 About the book:
For married women who feel like single parents.
Bookstore shelves are full of parenting resources for moms who are newly divorced or widowed. But where do moms turn if they feel like a single parent--but they're not? Whether he is away on business, deployed in the military, or obsessing over a computer game, dad may not be available for a variety of reasons. Moms who parent in this situation still need help and don't necessarily relate to the advice given in divorce recovery or single parenting resources.
Married Mom, Solo Parent is a common-sense, down-to-earth look at the struggles wives and mothers face when their husband is not actively involved in family life. Writing from her own experience as a married single mom, Carla Anne Coroy will help wives and mothers sort through their questions,such as: Can I do this alone? How do I raise kids to honor their father? How do I give my children a healthy perspective of marriage if they never see one inaction? With practical suggestions, anecdotes, and biblical teaching, this book will encourage moms to see their position as a high calling, to find healing for their worries and frustrations, and to tap into God's strength for help in facing the daily challenge of being a married mom, solo parent.
My thoughts about the book:
"Married Mom, Solo Parent: Finding God's Strength to Face the Challenge" is a book that would have been extremely beneficial to read in the midst of my struggles last year.

Carla Coroy, is honest and straightforward about her experience with single parenting while married.

Coroy shares her feelings, her challenges, and her successes.

She also provides tips to moms regarding mealtime, maintaining the house, spending time with children, and how to find support from God throughout all of this.
This book really hit home for me.

I was truly struggling last year with my husband traveling so often (practically every other week), taking care of two kids, and working full-time.

I felt I was drowning and I wasn't sure if I was going to resurface.

Coroy voiced the thoughts in my head and the feelings I had.

It seemed that the people around me could not really understand what I was experiencing because they were not living it.

Carla Anne Coroy has lived it and understands perfectly well what life is like in this situation.
I am so happy to report that my life has changed 180 degrees.

My son is sleeping through the night, my husband is traveling less and helping me out a ton at home, and I feel like a new woman.

Due to the fact that my husband still needs to travel from time to time, I felt it was still appropriate to review this book.

I have found Coroy's advice very useful.

Being a single parent even for a brief period of time can be difficult.

However, as Coroy discusses in the book, you can't live in self-pity.

You need to still be a parent.

I have adjusted and think about things so differently now.
About the Author:
Carla Anne Coroy runs the Married Single Mom blog at www.carlaannecoroy.blogspot.com. She speaks regularly and serves as a staff writer for an online Christian women's magazine Mentoring Moments for Christian Women. Carla Anne lives in Canada with her husband and four homeschooled children. For more information, visit
www.carlaanne.com
.
About the Facebook Party:
Come to an encouraging MomChat party on Facebook…you could win a KindleTouch!
To celebrate the release of her new book Carla has partnered with her publisher, Kregel, to host a live MomChat party on Facebook! http://www.facebook.com/event.php?eid=177346262342482
The party will wrap up the blog tour(http://litfusegroup.com/blogtours/text/13420715) and Carla will be hosting an encouraging MomChat about all things mom and wife related. There will also be a fun contest and she's giving away a KindleTouch and a ton of other fun stuff (books, gift certificates and more!).

So RSVP today and then come back on 10/25 at 5pm Pacific,8pm Eastern for the party.
Don't miss the fun ... and tell your friends.
*Disclaimer: I did not receive monetary compensation for this post. I received a free book for the purpose of this review. The opinions expressed here are my own.