I love preparing for the holidays. It is absolutely my favorite time of year. I think I am just as excited as the kids. I particularly love the preparation, the decorating, and of course, the baking. I also love dressing the kids up and taking their picture for the annual Christmas card. I admit it – I love showing off my kids! We hang our cards up on the main office door at work for everyone to see our families and "ooh" and "ahh" about how much they have grown in the past year.
Since I am "on the ball" this year, I have already taken a photo for this year's Christmas card. My son is constantly on the go right now and doesn't like to sit for photos, so I took the photo at home. I was able to get my son to sit with my daughter in an oversized beanbag chair by holding a dinosaur. I took a great close-up shot of their smiling faces and was able to crop the dinosaur out of the picture.
I have a great photo, now I need the perfect holiday design. Where am I going to head? To
Tiny Prints
, of course! Tiny Prints has such a wide variety of
holiday photo cards
from which to choose. It's a good thing, I took the picture early because it is going to take me a while to choose which one I want! I particularly like the following designs:
I LOVE this one because people can hang them on their trees! What a great idea! My Christmas cards typically end up in a basket on the kitchen counter.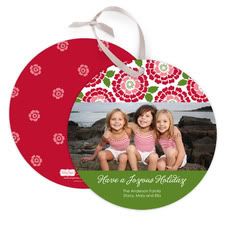 I like this one because it's different than the usual red and green!
Tiny Prints has designs for everyone! Check them out this holiday season! If you aren't searching for holiday cards yet, they also have Halloween and Thanksgiving cards that are super cute.
*Disclaimer: I wrote this post in conjunction with the Tiny Prints Social Media Campaign. I will be compensated for this post with free product. The opinions expressed here are my own.