This world is a ridiculously crazy place.

I'm not just saying that because I work in the field of mental health.

All you need to do is read the newspaper, read the Internet headlines, and/or watch the news.

When I was younger, my friends and I would hop on our bikes and be gone all day.

We could walk the lake at night and not worry about being approached by strangers.

Nowadays, I refuse to even let my daughter walk to the next aisle in the grocery store.

I'm not sure if people out there would say I'm overprotective, but frankly, I wouldn't care if they did.

The truth of the matter is you can never be too safe.
I was excited and relieved to hear about SafeKidZone.

SafeKidZone turns smartphones into "personal security devices".

As I viewed their website and watched their informational videos, I kept thinking that not only is this a fantastic safety tool for kids, but for adults as well.

I know I have become increasingly uneasy in mall parking lots and parking garages.
All you need to do is download the app to your phone and create your account.

Should you or your child need to, they can press the panic button and text and email messages are sent out to their contact network (which would be adults that you designate) as well as the main call center.

The call center and the contact network communicate.

If needed, the call center then contacts the closest 911 operator and provides them with you or your child's safety profile information, which includes a picture, description, etc.

This saves a TON of time – time that is valuable in helping you or your child.

SafeKidZone also allows for the GPS location of your child to be tracked.

This is the next best thing to having a GPS chip placed in your child's body!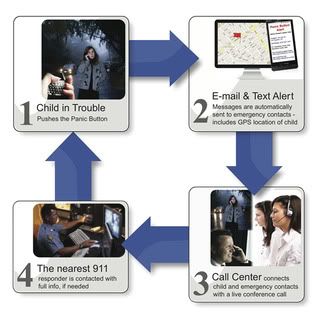 In terms of pricing, the Limited Plan is free.

This includes the text and email panic button alerts and the safety network.

The safety network is notified when the button is pushed.

The Full Feature Plan is $9.95 per month.

This includes the Full Featured Panic Button, Live Conference Call, Safety Network, 24/7 Response Call Center, Direct 911 Access, Advanced GPS Location & Mapping, Emergency Safety Profile, Text and E-mail Panic Button Alerts, and more!
*Disclaimer: I did not receive monetary compensation for this post. I received free service for a limited time as compensation. The opinions expressed here are my own.