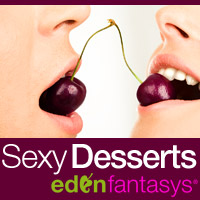 This post is for mature audiences and contains links for adults only.
It's difficult for many couples to keep the spark alive when they are trying to manage a household, take care of children, work full-time jobs, etc. At the end of the day, everyone is exhausted. However, it is important to take time for each other.
EdenFantasys
is an online shop that sells products that can help couples with creating and/or maintaining the spark. EdenFantasys is an
adult shop
that sells adult toys, lingerie, candles, massage oils and bath and body products, to name a few.
At the end of a long day, exhausted or not, I think that couples need to set the right mood. Clean sheets, candles, and massage oils are easy and cost-effective. The clean sheets I can easily take care of. However, the candles and massage oils are a different story. I love candles and often use them in my home while entertaining or to freshen up the air if needed. These are mostly the smell of apples or pine trees – not really mood enhancing scents! I have to admit that I haven't used candles to enhance the mood.
Illume Candles
seem like the perfect choice. Illume Candles come in a variety of scents, but the one that caught my eye was the Angel Food Cake! My husband gives great back massages, but we don't own any oils. The
Massage Therapy Kit
contains five different oils, including Serenity, Pleasure Garden, Sweet Almond, Healing Blend and Soaring Spirit. These oils are infused with Vitamin E and skin-smoothing ingredients!
I saw the
Candy Bra
for the first time on the EdenFantasys site. I thought this looked different and intriguing! If you have never seen one, you should sheck it out!
Whatever you are searching for, whether PG-13 products or Rated R, EdenFantasys has the product and can take care of your needs!
*Disclaimer: I was compensated for this post as part of the EdenFantasys Blogger Ambssador Program. The opinions expressed here are my own.