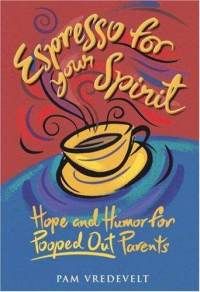 I am a big coffee drinker. I am one of those people that shouldn't be spoken to until they have theur morning coffee. My husband goes the extra step and throws a couple shots of espresso in his coffee as well. I haven't reached that point yet, but there are certainly days when I feel as though I need it. The weight of work, the house, taking care of the kids – everything really – overwhelms me to the core. Can any of you relate? I bet you can…What do you do to pull yourself together? I try a number of things – blogging, reading, making jewelry, taking a hot shower, and lately praying. Praying for patience, praying for strength, and simply to make through the day without completely freaking out on someone.
Espresso for Your Spirit, written by Pam Vredevelt, is for parents like me who are simply "pooped out". We have all been there. Espresso for Your Spirit is a faith-based book that suggests that you can change the way you feel by praying and opening yourself up to God. Each chapter discusses situations in which the author and her family or another acquaintance was experiencing a low time and how they came to the realization that things can change and be better. The book states that God know what you are coping with and you are not alone. Between each chapter, there are funny quotes, sayings, and quick stories that are meant to make you smile and think about when times are tough.
At times while reading this book, I felt like it was written just for me. I knew that having two children was going to be hard, but I didn't realize how hard of an adjustment it was going to be for me trying to balance it all. It has been an exhausting year and I feel as though I have aged ten years within this past one alone. I often read this book thinking about the fact that I do get caught up in being overwhelmed and forget my faith. The funny quotes and stories in the book put a smile on my face.
More about the author:
Pam Vredevelt is a Licensed Professional Counselor, popular inspirational speaker, and bestselling author of the Espresso for a Woman's Spirit series, Angel Behind the Rocking Chair, and Empty Arms: Emotional Support for Those Who Have Suffered a Miscarriage, Stillbirth, or Tubal Pregnancy. Pam, John, and their three children make their home in Gresham, Oregon.
*Disclaimer: I did not receive monetary compensation for this post. I received this book for free from WaterBrook Multnomah Publishing Group for this review. The opinions expressed here are my own.