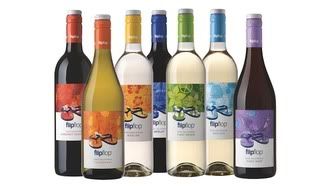 My husband and I are not wine connoisseurs by any means, but we do enjoy having a glass after a long day or inviting our friends over for wine and appetizers.

Although we have a couple of different favorite brands, we like trying different brands and varieties.

We recently had the opportunity to review flipflop wines, including the Pinot Grigio, Riesling, and Pinot Noir.

We invited our friends over from across the street and we had ourselves a great time!!
I know this is superficial, but I just love the bottles.

The flip flops are such a cute design with pretty shades of purple, green, and yellow.

In addition to presentation, I love that flipflop wines provides suggestions as to what foods will go well with the wines.

This has never been my strong suit.
My favorite was the Pinot Grigio – not too sweet, not too dry.

I believe this was the favorite for the whole group as well.

We are accustomed to drinking this kind of wine and it compared nicely to other brands we have purchased.

The price for these wines cannot be beat - $7.00 per bottle!!

Like most families, we are certainly trying to keep our grocery bill under control.

Typically, I purchase one bottle of wine for our meals with our friends because wine can be so expensive.

I love knowing that my husband won't object to me spending money on flipflop wines!
In addition to making tasty wine, flipflop wines has partnered with Soles4Souls.

The goal is to put shoes on the feet of 11 million people in 2011.

I had not given much thought to the fact that lack of shoes contributes to the spread of parasitic diseases.

"In addition to infections brought on by external injuries, a child's bare foot is particularly at risk of infection by hookworm.

Especially at risk are children living in African and Southeast Asian countries, where hookworm infections are about 60 times more common."

This is such a wonderful cause, one that I believe needs to be publicized more.

I would rather purchase from a company that is contributing so much to helping others.
Thank you very much to flipflop wines for allowing me the opportunity to review your wines.

I am a new fan!