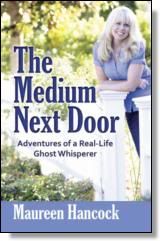 I have always been intrigued with books, movies, and discussions regarding the afterlife. Yes, I am definitely a believer that our time on Earth is not the end all be all of our existence. I have visited with a medium/psychic before, but I was not able to confirm what this person told me and therefore, was not as meaningful. After my grandfather died, I feel as though I am constantly searching for signs that he is alright and watching over us.
Maureen Hancock is a medium, living in Massachusetts. As the author of "The Medium Next Door", she discusses her childhood and how she discovered her gift at the age of five. She discusses how she uses her talent to help others cope with their lives and how her own life was impacted by the spirit world. In addition to her stories, each chapter has suggestions for readers based upon that chapter; for example, tips for being more aware of a spirit communicating a message to you.
I was really struck by not only how funny she is, but also how she maintains a normal family life while balancing her work and charitable causes. She is truly inspirational to say the least. Some of the comments she made really hit home for me. Maureen discusses how to pay attention to the signs and messages that are being sent by our loved ones. I have found myself smiling at times over the past week - wondering if I had in fact experienced a sign and realized it. She also discusses the fact that our loved ones want us to live a normal, happy life. Understanding the fact that everyone needs to grieve, it is also important for us to live our lives to the fullest and not be stuck in that grief. This, in particular, was meaningful for me. After the loss of my first baby and my grandfather in the same week, I shut out the world and grieved (of course), but it took me a long time to move forward.
I was excited to learn that Maureen is also scheduled to have a reality television series this year. I look forward to watching and hearing more about her work!
I recommend The Medium Next Door for believers as well as skeptics! Maureen Hancock's stories are funny, interesting, and remarkable!
*Disclaimer: I did not receive monetary compensation for this post. I received a free copy of this book for the purposes of the review. The opinions expressed here are my own.