My anxiety races when I hear my daughter speak ill of herself in any way because she is only seven years old. No parent wants to hear their child put themselves down or second guess themselves to the point where they won't try activities. My daughter has shown signs of taking after me and at times that makes me proud, but then there are other times when it downright frightens me. I am a firm believer that having a strong sense of self-esteem is crucial in making your way in our society today, particularly in managing adolescence. Children with strong self-esteem are not as at risk for problem behaviors, which has definitely been proven by research.
BYOU
or Be Your Own You is a company, created by Deborah Gano, to educate and support girls in developing and maintaining their self-esteem. "Our goal is to diminish the need for girls to seek external validation and approval, and rather rely on their own inner strength in full awareness of their worth and inner beauty. Through our products and education, we empower girls to make positive choices for their health, safety, well-being, personal happiness, and contribution to community".
BYOU has a fabulous website, including online games for girls, a free online club for girls, as well as a shop containing awesome merchandise. Clothing, earrings, lunchbags, backpacks, and a book, "Beauty's Secret" are available.
My daughter and I were able to review the Be Your Own You – Believe in You! shirt, the pink lunchbag, as well as ", "Beauty's Secret", which was written by Deborah Gano herself. I was impressed with the quality of the products. The shirt is made with 100% quality cotton and has an adorable colorful design. The pink lunchtote is made of a sturdy canvas and has a lined inside for cold items. This is perfect for the lunchroom or the beach!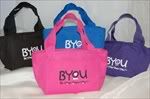 Lastly, we reviewed "Beauty's Secret". Beauty's Secret is about a girl named Beauty "whose enthusiasm for life lights up the world around her. However, her light dims as she becomes overly focused on her external appearance". Beauty learns an important secret in this story that I believe every girl nowadays needs to hear! This is Book One of the Heartlight Series and has won numerous awards, including Mom's Choice Award, USA Book News National Best Books, and the Moonbeam Award. My daughter and I read this book over the course of a week, chapter by chapter at night. My daughter, although seven, is a strong reader and was able to read it herself. The book was beautifully illustrated by Dawn Pitre.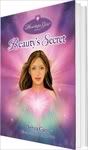 If you would like to read more about the Heartlight Girls, visit the following sites: