I will never forget the pride I felt at my daughter's kindergarten graduation last year. Like any mom would of course. My daughter had an absolutely wonderful teacher who had helped her learn and grow into a confident and smart little girl. She was surrounded by her little friends who she adored and whom we had come to know very well. I had recently had another baby and my daughter had supported and helped me so immensely.
The class entered the gymnasium to "Pomp & Circumstance" in their little blue caps and gowns. I teared up right from the beginning. The class sang about twelve songs, some were silly and some were tear jerkers. They had obviously been preparing for quite some time and they were adorable. Instead of simply singing loud enough for everyone to hear, they were practically yelling their hearts out.
We had such mixed emotions that day. Pride for what she accomplished that year. Happiness that she was going to be taking the next step into elementary school. A little sadness that she was getting older. I can only imagine what I will feel with her future graduations – middle school, high school, college. As are all moms I'm sure, I will be beaming with pride.
Tiny Prints provides stylish, modern and unique graduation stationery including
graduation announcements
,
graduation invitations
, and
thank you cards for teens
. When graduation season has come and gone Tiny Prints will still be here to fill all your stationery needs with their exclusive designs from the nation's top designers. You'll find summer
party invitations,
personalized greeting cards,
thank you cards,
business cards,
and even custom wedding invitations. Come try the easy card personalization, powerful preview engine and top-notch customer service and paper quality for yourself! With Tiny Prints by your side commemorating every holiday and momentous occasion is a cinch!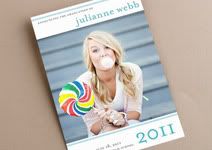 *Disclaimer: I was compensated for this post. The opinions expressed here are my own.