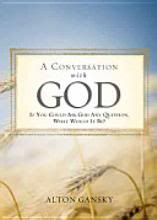 I believe that I have spoken quite a bit on here about my choice to convert from being a Protestant to a Catholic. I have done so much thinking and soul-searching over the years to come to this decision. I became "official" at the Easter Vigil a week ago and I was so excited. A religious education is something that has always been missing from my life. I was always jealous of people who knew and understood the Bible. They appeared to know all the answers to the important questions.
I had the opportunity to review "A Conversation with God: If You Could Ask God Any Question, What Would It Be?" by Alton Gansky. The title of this book instantly grabbed and really got my wondering what my one question would be...I have asked so many questions, but if I could choose only one, that would be hard! I think a lot of my questions have to do with heaven and they can only get answered when I get there!
"A Conversation with God" is a beautiful book that is easy to read. It presents questions to readers that many of us have wondered about and possibly debated about with family and friends. The questions are organized by categories, including God, Bible, The Future, Pain and Suffering, Jesus, Kingdom of God, Heaven and Hell, Humanity, Christian Living, and Today's World. What differentiates this book from other books is that it presents the answers from the perspective of God, Jesus, Disciples, and other important people in the Bible. At first, I had a little difficulty with reading the sections that were speaking for God and Jesus because I had bee taught that no one can speak for them and that it is considered blasphemous to do so. However, after I put this thought aside, I found it interesting and helpful to read it as though it was coming from them. It made it more meaningful. There were some things stated in the book that I still need clarifying and will possibly ask my teachers about; for example, it states, "There is a myth that good people die and become angels. This is a misconception. Angels are a special class of creation". That was not what I was taught. I guess maybe I have more learning to do! I also feel this is a book that I could read a few times, not just once. I feel as though I need to take time to ponder the questions and answers and then read it again to see if it all makes sense. These are deep questions! For example, in regards to humanity, "what is our biggest problem?", "what is heaven like?", and "what will we do for eternity?"
Overall, I really wish I had read this book over a year ago. I would have been well prepared for my RCIA classes! My daughter has started asking me some questions recently and I believe this book will also be helpful in trying to explain things to her. As I mentioned before, the text is easy to understand and would help people, especially those without a religious background, to understand the major questions we ask in life.
I would like to thank Booksneeze for providing me with the opportunity to review this book.
So, the ultimate question is, what is the one question you would ask God if you were given the chance right now?