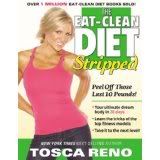 I had one year ago and I am struggling with losing those last few pounds to get down to my pre-pregnancy weight. Those last few pounds are absolutely the hardest to lose. It's as though they just want to hang on forever! I admit that I do things all wrong - I tend to starve myself, I don't exercise, I don't drink enough water, and I do not eat small snacks between meals consistently. I know that I am doing things the wrong way, but I am so focused on my family, work, and the home, that I have been stuck in a rut.
I had the opportunity to review The Eat Clean Diet Stripped - Peel Off Those Last 10 Pounds!, written by Tosca Reno. I had not read any of Tosca Reno's previous books (there were 11!) and was so amazed at the sheer amount of information presented in this one. She is in phenomenal shape! I figure it is certainly worth trying all of her advice. The Eat Clean Diet Stripped teaches people how to trick your body into losing those last ten pounds. It talks about so many different areas in which I struggle!
The book addresses the following:
· How to trick your body into dropping those last pounds (Hint! You get to eat more!)
· The best weight-loss secrets of the physique industry.
· How to use natural herbs and teas to launch your metabolism into overdrive!
· Myth busting: Which foods are supposed to help you lose weight but actually keep the pounds on.
· Eating and training plans that guarantee results! Detox Solutions.
· Tips for conquering cravings.
· Tricks of the trade to make you look 10 pounds lighter right away.
· Over 50 brand new Eat Clean Diet recipes.
I was so thrilled to find this book because I have been really trying to pay attention to the suggestions and I already feel better about myself. Not that I eat completely unhealthy, but I do like to snack everyday. I would love to detox my body from the stuff I put into it. Eating small snacks between meals has definitely helped me cut back on how ravenous I feel at lunch and dinner. One of the suggestions in the book is to drink hot water with freshly squeezed lemon in the morning in order to help your body detox. I never knew of this strategy! I wish I had known because it is so simply to sip my lemon water while at work.
The book includes over 50 recipes that really do not seem difficult to make and are appealing. I went through the recipes with my husband and we agreed upon some to try. He is motivated to change his eating habits as well. I'm not so sure my daughter is as motivated - she loves her chicken nuggets! However, she knows the importance of eating healthy and exercising, so I will still allow her some reasonable healthy treats to balance it out.
More About the Author:
Tosca Reno is the NY Times bestselling author of Your Best Body Now and her The Eat-Clean Diet book franchise, has sold millions of copies worldwide. Tosca's life was like many others, she was miserable being overweight, out of shape and living an unfulfilled life. In her early 40's, she decided enough was enough and discovered this new way of eating clean and exercising. It transformed her attitude and health like she never thought possible, creating a whole new career as a fitness cover model and bestselling author. Today at 52 years old, Tosca is a mother of four and has never looked better.
I would definitely recommend this book to people who are struggle to lose a few pounds. It is FULL of information and well worth the read. It could change your life!