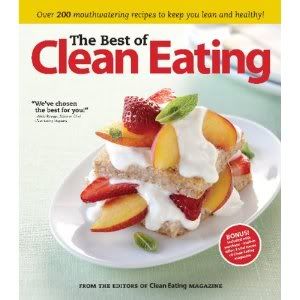 "The Best of Clean Eating: Improving Your Life One Meal At A Time" is a compilation of over 200 recipes from Clean Eating Magazine. I was allowed the opportunity to review this cookbook in addition to The Eat-Clean Diet Stripped book written by Tosca Reno. When I received this cookbook, I was wondering, "What is clean eating?" I was not familiar with the magazine yet. I learned that clean eating is "consuming food in its most natural state - or as close to it as possible". These recipes are purely healthy and when used with the Eat-Clean Diet Stripped book, could really help you lose weight.
The Best of Clean Eating is a beautiful cookbook. Bright pictures accompany the recipes. The pictures are truly mouth-watering. I am not just saying that! In addition to the recipes, the book also educates you about food and nutrition. For example, as a sidenote to the recipe for the Spinach and Chicken Sausage Pizza, it states,
"A serving of our clean pizza provides more than three quarters of your daily calcium need, but that's not all in the mozzarella cheese. Spinach is also a good source of calcium: one cooked cup offers about 245 milligrams of the bone-building mineral".
I never knew that about spinach and I am certainly going to be trying that recipe! Weekly menu plans are also provided for you to ease the burden of planning.
It was hard trying to decide which recipe to cook first, but ultimately I attempted the Shepherd's Pie. This Shepherd's Pie is made using ground turkey instead of ground hamburger meat. My family and I eat turkey burgers each week, so I thought they might enjoy this meal. This meal took me a while to make, so I definitely would not make this a habit in the middle of the week. The weekend would have been better. Personally, I enjoyed the meal. I loved the chives in the potatoes and the tomato flavor of the ground turkey. The recipe makes a large dish, which I then froze the leftovers so I had another meal for the next week. I wish I could say that my husband and daughter enjoyed it as much as I did; however, I guess they are not as open at this point to clean eating as I am. They struggled with eating the ground turkey, which is silly because we eat it in burger form each week! I think they were just being close-minded!
I am going to attempt a new Best of Clean Eating recipe each week. I think I am going to make it and not mention that it is from a healthy cookbook and see what they say! I recommend this cookbook for those who want to get the most nutrition from their meals and not feel guilty about what they are eating.