My husband and I have been really trying to cut down our grocery bill, but frankly, it has not been going very well. I have read posts about couponing, watched videos, read circulars, visited numerous coupon sites (catching computer viruses along the way ) and we haven't made a significant dent in our bill. There are different factors that play in to why, but I won't bore you with the details here.
I dread the weeks when I need to buy laundry detergent. I think that I could definitely decrease the number of loads that I wash in a week by letting the piles build up a little bit. However, I really try to stay on top of the wash so that I am not overwhelmed and spending my entire Saturday doing laundry. Because I run more washes, I am using more laundry detergent than I like. I was intrigued when I heard about the Robby Wash Laundry Ball – a little laundry ball that can last up to one year or 120 loads of washes. Needless to say, I was eager to review it!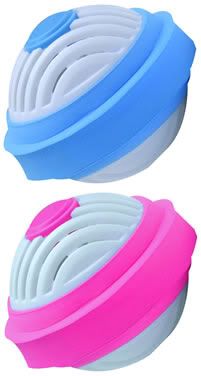 When I received the ball, I have to admit, I was a little bit skeptical. How can this little ball last so long? Would it truly clean my clothes? Would it irritate my children's skin? I would just have to test it out and see for myself.
I used the ball with a load of towels for the initial test. It was pretty nice just tossing the ball into the washer with the towels and not having to measure any liquid. When both the washing cycle was over and the towels were dry, I was pleasantly surprised. I was also pleased when no rashes appeared on anyone in my family.
I began washing my husband's and my clothes with the ball and then lastly, my children's clothes. Our clothes are clean, smell nice, and I haven't needed to purchase laundry detergent. Aahhh…saving money. It feels good!
More about the Oransi Robby Wash Ball:
- 10 ounces of Robby Wash ball replaces 75 lbs. of traditional laundry detergent - environmentally friendly.
- One Robby Wash ball lasts up to 12 months. The ball itself will last 3 years.
- One Robby Wash ball will save more than $100+ over 120 washes.
- One RobbyWash ball is only $32.95 and lasts one year. This includes refills.
- It is eco-friendly, hypoallergenic and safe - commonly used in Europe with baby laundry (as well as adults' laundry).
- Third party tested, proven and guaranteed to clean better than traditional powder laundry detergent.
I am pleased to be able to host a giveaway for the Robby Wash Ball! One Tidbits From A Mom reader will win a Robby Wash Ball pack. Please fill out the Rafflecopter form below to enter.
a Rafflecopter giveaway
*Disclaimer: I did not receive monetary compensation for this post. I received a free sample of the Robby Wash Ball from Oransi for the purpose of this review. The opinions expressed here are my own.