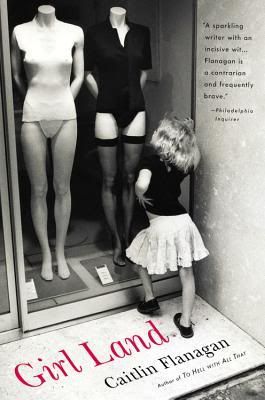 I am no different than any other mother raising a daughter. I hope and pray that my daughter will grow up to be a strong, independent, well-adjusted woman. There are so many days when she the things she does and the comments she makes bring me back to my own childhood. Times are drastically different nowadays, but then again, many things are the same. For example, the whole world of technology instantly changes the manner in which children experience the world and shape who they are. However, in talking to my students everyday, they often complain about the same exact things I complained about so many years ago.
Since I am so interested in learning about other people and why people are the way they are, I was really interested in reading Girl Land, written by Caitlin Flanagan. Flanagan defines Girl Land as the period of time when a girl leaves childhood and enters womanhood. Girls experience tremendous physical, emotional, and social changes that shape who they become as women. Flanagan discusses how Girl Land has vastly differed from generation to generation. She discusses the following in detail in terms of what girls face: dating, menstruation, diaries, sexual initiation, and proms.
I found this book fascinating. I really enjoyed reading about the history behind dating in our culture, how menstruation was taught over the years, the social-emotional purpose of diaries for girls, and how proms came to be a custom. Sexual initiation is a topic that I knew more about with respect to our culture and how sexual behavior has been viewed in the past and how it is viewed presently. I felt this book was engaging - Flanagan discusses events from her own life that bring the reader in.
Girl Land has given me a great deal to think about with respect to my own daughter. I know that my daughter is going to be entering the most confusing, emotional time of her life and I want to be able to help her through it and provide support. Obviously there will be mistakes along the way because no parent is perfect, but I want to be able to understand her world and how she views it. I imagine this can only help. I strongly recommend reading Girl Land if you are the mother, grandmother, or aunt of a young girl.
I am very pleased to have the opportunity to host a giveaway for Girl Land. Three lucky Tidbits From A Mom readers will win their own coy of Girl Land. Simply complete the Rafflecopter form below to enter.
a Rafflecopter giveaway
*Disclaimer: I did not receive monetary compensation for this post. I received a free copy of the book for the purpose of this review. The opinions expressed here are my own.