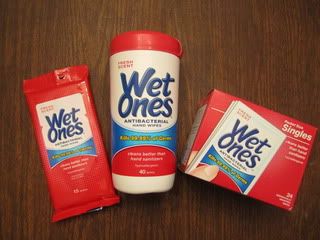 My daughter woke up yesterday with a little bit of a stuffy nose.

By last night, she was even more congested.

Ugh!

It is only the beginning of September and this is the first full week of school she has had.

Returning back to school shoots waves of anxiety through me, primarily because of germs.
I don't like to nag my family, but I harp on my daughter about hand washing.

When she gets sick, her asthma is out of control and I certainly do not want her spreading it to my son, husband, and I.
I recently received a Wet Ones Antibacterial Hand Wipes pack that contained a 24 count box of individually wrapped single wipes, a 15-count travel pack, and a 40 count canister.

Wet Ones are 99% effective in killing germs and are great to use when soap and water are not available.

In addition to the fact that they are just as effective as gel hand sanitizers in killing germs, they are useful in cleaning dirt and grime off your hands.

Wet Ones are hypoallergenic and contain aloe; therefore, they won't irritate the skin.

This pack also contained an informational sheet about germs, back-to-school health tips from renowned pediatrician and author Dr. Sears, and a survey result sheet.
I like that the hand wipes are have a fresh scent and are not overpowering.

I also like they are gentle on the skin.

Both of my children have sensitive skin and I can relax knowing that they can use them whenever they want.

I absolutely love the fact that Wet Ones are sold in a variety of packs.

I tuck the individually wrapped wipes in my purse and my daughter's backpack.

I placed the travel pack in the car and I keep the canister in my desk at work.

Not only do I use them for my hands, but I use them to clean off my phone (staff members often use it) and my table where children sit to talk and play games.

You never know when you are going to need a wipe!

Our family seems to use them often!
Wet Ones has teamed up with Bill Nye the Science Guy to teach kids about germs.

You and your children can watch videos and interesting science experiments at his Wet Ones Healthy Hand Zone!
In order to help you and your family with going back-to-school and fighting the germ war, Wet Ones has kindly offered to give one of my readers the same pack that I received.

This included the 40 count canister, the 15-count travel pack, and the 24 count box of individually wrapped single wipes!
Please fillout the Rafflecopter Entry Form below!
*Disclaimer: I wrote this review while participating in a Blog Friendly PR campaign on behalf of Wet Ones. Samples were provided so I could provide my honest opinion.