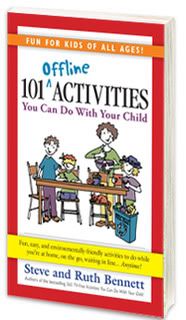 Although my daughter loves her dolls and Barbies, she loves computer time. She uses the Kidzui browser and if I let her, she would play an endless number of games. Kids are definitely addicted to technology nowadays. I see it at work with the students. They talk continuously about how they spend their time at night – playing games online or on their game systems.
101 Offline Activities You Can Do With Your Child, written by Steve and Ruth Bennett, is a book that contains 101 activities that will have your children using their imaginations and creativity, instead of staring at a computer screen. The activities are categorized in the following manner: At Home; On the Road; In the Kitchen; Anytime, Anyplace; and Out & About.
The majority of the activities require minimal supplies and they are all items that are common in the home. There are also many activities that only require your time. These activities in particular are great when you are in the car or sitting in a waiting room and you need to pass the time.
My daughter enjoys this book. When she first received it, she immediately grabbed the book and began telling me what games and crafts she wanted to try. This book came in handy when Hurricane Irene blew in and we lost power for the day. My daughter's favorite activity has been the "Sensational Salon", which involves setting up your own little salon. In addition to styling my hair, my daughter included a manicure and makeup consultation for me. This was great mommy-daughter time.
We have a list of the activities she would like to try. I look forward to making our way through the list and creating some new memories!
About the Author:
Steve and Ruth Bennett currently live in Cambridge, MA and have two children. They are the authors of 365 TV-Free Activities You Can Do WIth Your Child and 365 Outdoor Activities You Can Do With Your Child, which have sold a million copies. Steve Bennett is the founder of AuthorBytes, which is a company that develops websites, blogs, apps, and more for authors and publishers. Ruth Bennett is a landscape architect, specializing in children's play areas, public parks, and university quadrangles.
*Disclaimer: I did not receive monetary compensation for this post. I received a free copy of the book for the purposes of this review. The opinions expressed here are my own.