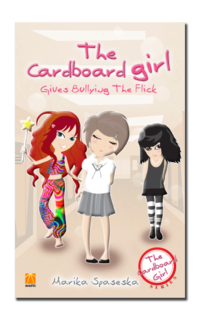 Bullying is a pervasive problem in this country. Some of you may have experienced it as a child and/or are attempting to help your child with the problem. My classmates and I had a terrible problem in both the 4th and 5th grades due to one girl who made our lives a living hell. This girl was the stereotypical "big, mean bully". I remember how the teachers would not help us when we asked for help and I even remember the names of the teachers who completely dismissed us. Working in an elementary school, I certainly do not want to be considered as an adult who doesn't listen.
I teach students every year about bullying, respect, tolerance, etc. I find that books are a wonderful way to get the kids talking. I am always on the hunt for new books that talk about bullying. You never know when a particular book is going to impact a child. "The Cardboard Girl: Gives Bullying the Flick", written by Marika Spaseska, is a fictional story about bullying. There are three main characters – Cora, Erin, and Brooke. Erin is a young girl being bullied by Brooke. Cora is a witness to the bullying. She attempts to provide advice, encouragement, and stand by Erin while she is trying to cope with this problem. Cora is an exceptional child in that she wears a cardboard out in her magical cubby house and uses her special powers to help other children.
I liked the fact that this book is so different than other books on bullying. I wish I had magical powers to be able to help others! The book does a nice job depicting the internal struggle that a student feels in deciding whether to stay silent or ask for help. As Cora is in the book, I was frustrated with Erin's inability to speak up for herself due to fear and lack of confidence. I also think the author did an excellent job relaying the fact that a child who is considered a "bully" may not be someone who is a happy, confident, child. They may be quite unhappy. Brooke's character made me think about my own experience as a child. The issue of bullying was considered normal and a "kids will be kids" situation. We were not taught how to deal with it. I spoke up for myself more than Erin. Looking back on my childhood, I can definitely see that the girl in my class who tormented us did not know how to be a good friend. She was huge compared to us; thus, she was probably self-conscious. On top of that, who knows what her home life was like.
About the Author:
Marika Spaseska was born in Macedonia, which was formerly Yugoslavia. She moved to Australia when she was two years of age. She began working on a journalism degree and then switched to Social Work. She has worked as a social worker for 17 years. She was inspired to write this book as a result of her niece's experience with bullying.
Marika Spaseska has kindly offered to sponsor a giveaway for a free copy of The Cardboard Girl!
Please fill out the Rafflecopter form below!
*Disclaimer: I did not receive monetary compensation for this post. I received a free copy of this book for the purpose of this review. The opinions expressed here are my own.