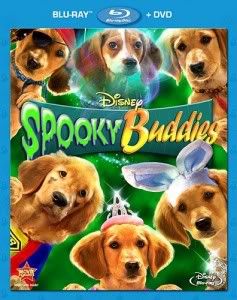 Any movie with the Buddies is a favorite in our house. They are great family-oriented movies and a perfect choice for having movie night with the family. I am so happy that Disney's adorable Buddies are back in an all-new Halloween movie! Disney's Spooky Buddies is being released on September 20, 2011. Budderball, Rosebud, Buddha, B-Dawg, and Mudbud are on another exciting adventure with some new friends – Pip, Zelda, Rodney, and Skip. The Buddies and their new friends must stop Warwick the Warlock to save the world!
Please check out the widget below! Included in the widget are tips to help care for the "buddies" in your home and fun activities for your kids and their "buddies"! Also, the Spooky Buddies widget has an exclusive "Buddy" quiz so you can find out which one of the Spooky Buddies would be your Buddy!
I am so excited to be able to offer one of my readers a free DVD/Blue-Ray combo pack of the Spooky Buddies! Please fill out the Rafflecopter form below to enter!
*Disclaimer: I did not receive monetary compensation for this post. The opinions expressed here are my own.