My son's bedroom has really been lacking in the way of pictures or any kind of personalized décor. I was excited to find Kidlandia, which is a company that specializes in personalized items for children. Their products include wall art, apparel, mugs, placemats, blankets, puzzles, and more! The wall art and décor products immediately caught my attention! Kidlandia has adorable wall art and décor that are perfect for decorating any child's bedroom or playroom. There are so many design themes to choose from, including popular characters such as SpongeBob, Disney Princesses, Cars, Toy Story, and more.
I was so lucky to have the opportunity to review one of Kidlandia's fine art prints. I chose to review the Cars print. My son has a newfound love of the Cars movie. "Car" is one of the few words that he can say, so when he says it, he is very excited!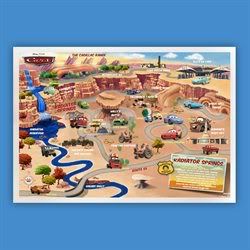 Once you choose the product you would like on the Kidlandia website, the personalization process begins. I was so impressed with Kidlandia's website overall and how easy the process was to personalize the art print. I was able to include the majority of our family members' names in the print. I was given the option of including more cars, trees, buildings, etc. and renaming areas on the print. For example, the large rock formation in the middle of the Cars print is called a "Butte" and once you assign a name to that area, it is labeled, "So and So's Butte". I had assigned my husband's name to this area and I knew I would never hear the end of it if I kept it that way, so I changed it to simply "Rock". Once we received the print in the mail, my husband admitted he was happy with the change!
Upon receiving the print in the mail, my son squealed so loudly and was saying "car" over and over again. He was delighted with his new picture for his bedroom. He didn't want to take his hands off of it! He doesn't yet understand the personalization, but I love that this is something meaningful that he will one day be able to smile about when he looks at it.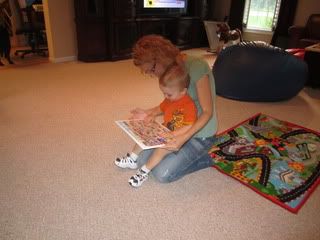 As I visited all the pages on Kidlandia's website, I instantly thought of a list of people for whom I could purchase gifts. There are so many cute choices! As I'm sure most people do, I love to buy personal and meaningful gifts for my family members. However, finding the right gift can sometimes be hard, particularly when you are under the pressure of time. Purchasing a personalized gift from Kidlandia takes no time at all and will certainly put a smile on a loved one's face!

Thank you so much to Kidlandia for providing me the opportunity to review one of their products.
*Disclaimer: I did not receive monetary compensation for this post. I received a free product for the purposes of this review. The opinions expressed here are my own
.