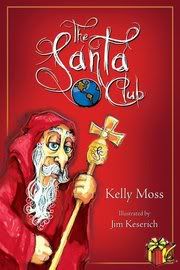 I dread the day that my daughter asks the question, "Is there really a Santa?" I want her to stay young and always believe.

The Santa Club, written by Kelly Moss, is for children who are old enough to ask the question.

Reading this book with your child will help them turn from the "receiver" into the "giver".

It also discusses why Santa is associated with Christmas and who the first Santa was.

Your child will be inducted into the very special Santa Club and will receive an official certificate.
I love the concept of this book and how it really helps children understand who Santa was in the past and is now.

I have never seen a book like it.

Children love being members of clubs, particularly those in which they need to be a certain age to join.

Inviting children to be members of The Santa Club makes them feel special.
The main questions that are addressed in the book are "Is there a Santa Claus?" and "Is Santa Claus real?"

I think that Kelly Moss did a phenomenal job answering these questions in a developmentally appropriate and sensitive manner so that children of all ages can understand.

The illustrations are wonderful and captivating.

The inclusion of a certificate making my daughter's membership to The Santa Club official is a nice touch.
I hope that I won't be using this book with my daughter for another couple of years.

However, when she's ready to ask these important questions, my husband and I will be prepared to explain things to her.

She can then become an official member of The Santa Club and enjoy the excitement that my husband and I feel.
Visit The Santa Club website to purchase the book!
Thank you to The Cadence Group for providing me with the opportunity to review this group.
*Disclaimer: I did not receive monetary compensation for this post.

I received a free copy of the book for the purpose of this review.

The opinions expressed here are my own.