My son loves his pacifiers. We call them "binkies" in our house. I know the day will come when the Binky Fairy will have to come visit our house to take the binkies away to the newborn babies, but until then, we allow our son to have his binkies in the car and at night.
My son recently received a
Paci-Plushie Pacifier Holder
to review. The instant I removed the Milo the Monkey Paci-Plushie Pacifier Holder from its package, my son's face lit up like a Christmas tree. He could barely contain his excitement! I wasn't sure whether he was going to want it hanging in front of his face, but I was so wrong. He instantly fell in love with Milo! We just need to say, "Where's your monkey binkie?" and he replies, "Oo…Oo…Ah…Ah…Ah". My son has not wanted to sleep with any stuffed animals yet, but that has changed since Milo the Monkey arrived!
The Paci-Plushie is simply adorable. The Paci-Plushie has a rubber ring attached to it, which fits easily around a pacifier (one is included with the Paci-Plushie). The rubber ring allows for you to easily remove the pacifier in order to swap it with another one. Also, the pacifier is 100% BPA and Phthalate free! Should the stuffed animal need a wash, simply detach it from the pacifier and throw it in the washer! There are eight different Paci-Plushie animals from which to choose. Each are so adorable and would make a great baby shower gift!
You can see from the photos below that my son is so happy with his Milo Paci-Plushie!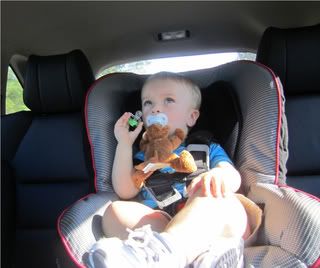 The Paci-Plushies website is adorable and contains a list of all the compatible pacifiers, which are basically all pacifiers. While perusing the website, I was so happy to see that Paci-Plushies gives back to the community by donating all of the wholesale proceeds from the sale of Lovie the Lamb to
The Austin Hatcher Foundation for a Carefree Childhood
.

Paci-Plushies is sponsoring a giveaway here at Tidbits From A Mom! One winner will receive their choice of a Paci-Plushie Pacifier Holder! They're so adorable and your child will love it! You can enter below by completing the Rafflecopter form. After you complete the form, you can move on to the next blog in the Mompact Giveaway Hop!
This post is part of the Mompact Blog Hop! Visit the other 120 blogs for additional giveaways – visit
Mompact.com
to view the links. The next stop on the Mompact list: Wahm Connect is giving away Dapper Snappers!
Click on the image below for the next Mompact Giveaway!
Disclosure: This promotion is in no way sponsored, endorsed or administered by, or associated with, Facebook. We hereby release Facebook of any liability. This is a Mompact sponsored event and the opinions and ideas on the products presented are entirely my own!