How many of you get nervous about protecting your kitchen and dining room furniture when your kids or family members are eating? I do, particularly during the holidays because that's when the nice furniture receives the most use. My husband and I purchased our set with inheritance money after my grandfather died and the set is priceless to me. For years, I have attempted to cover the chair my daughter typically sits in with towels. However, when I closely inspected the other chairs, I noticed I should have been paying closer attention to the adults as well! There are small spots on the upholstery! I wanted to cry...my husband just rolled his eyes when I mentioned having to have them cleaned.
I was thrilled when Rebecca of pb&j Discoveries contacted me and asked me to review one of her
SmartSeat Chair Protectors
. I hadn't yet seen comfortable and attractive chair protectors before! I've seen ugly plastic covers that remind me of my grandmother's when I was a little girl. The SmartSeat Chair Protectors are so nice looking!
I received the chair protector quickly and was instantly amazed about the quality of the fabric when I took it out of the wrapping. It was soft, not plastic. I received the Midnight Blue chair protector (which I liked because blue is my favorite color). I tried attaching it a couple different ways, but settled on the way that covered the seat completely and still fit easily around the chair legs . The chair protector covered my chair perfectly! I had my daughter use the chair protector not only during our Christmas meal, but also during our New Year's Eve chinese food feast we had the other night. I wasn't worried at all about her seat! I could relax knowing that the seat was protected. Now, I couldn't say that for my other five chairs! I now know that I need to purchase several more!
I love the fact that the straps are adjustable, so I can easily remove the chair protector and attach it to one of our smaller wooden kitchen chairs if needed. Lastly, I love that I can just remove it and toss it into the wash. Beautiful!!
Thank you so much to Becky of pb&j Discoveries for allowing me the opportunity to review one of the SmartSeat Chair Protectors. This is definitely a wonderful product to help manage your household and minimize the stress of caring for furniture. I highly recommend them (as you can tell from my previous positive praise!)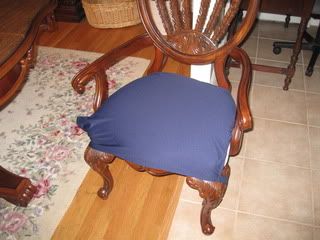 *Disclaimer: I was not provided monetary compensation for this review. I received a free product to review for me to keep. All opinions expressed here are solely my own.