My daughter discovered gymnastics a few years and fell in love. She refers to it as her "talent" (after learning about talents from Tinker Bell!) I have watched her improve dramatically each year and I am so proud of her. I was thrilled to discover Gym Digs and my daughter and I were ecstatic to have the chance to review their products!
Gym Digs specializes in leotards for gymnastics, tumbling, and dance. In addition to the huge variety of leotards to choose from on their website, you can special order leotards based upon style and color (i.e., Angle, Swirl, Curve Top, and Split). They also have scrunchies to any of their leotards! Gym Digs can accommodate large orders for gymnastics and dance teams as well and offers discounts on orders that are more than $300.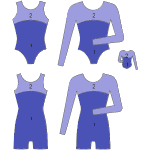 Gym Digs sent my daughter a generous review package! Included in the package was a purple and silver leotard, matching shorts, and scrunchie (purple is my daughter's favorite color and her gymnastics team color), a two-piece pink leotard, and a "splatter paint" leotard with matching scrunchie. My daughter was thrilled and has loved wearing each piece!
My daughter's previous couple leotards have ridden up on her during her classes. I watch her yank them down and pray others' haven't deemed her a "wedgie picker". I was thrilled to see that leotards from Gym Digs have not been riding up on her! Yay! She tumbles and flips and looks beautiful! I was not able to take a picture of my daughter with the scrunchies in her hair because her hair is so unbelievably fine. Scrunchies don't stay in her hair unless her hair is plastered to her head with spray gel and bobby pins.

In the past, my daughter has also had leotards that wear and split. However, Gym Gigs' leotards are made with quality fabric that is sure to last!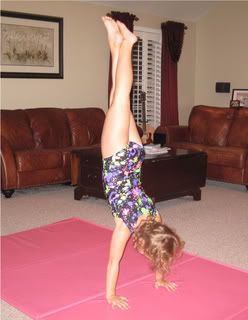 Thank you so much to Gym Digs for allowing us the opportunity to review your beautiful leotards! We will be spreading the word at her gym!
Disclaimer: I was not provided with monetary compensation for this review. However, I was provided with free products to keep. The opinions expressed here are solely my own.