I met Tiffini of
Kids T-Shirts Rock
through
My Seo Gal's Network Circle.
Kids T-shirts Rock specializes in personalized t-shirts for both boys and girls in numerous themes, including Sports, Sibling, Birthday, Halloween, and Holiday themed shirts. I was immediately impressed with the vast selection of t-shirts and thought to myself, "I am going to have a hard time choosing which ones to buy!"
Kids T-shirts Rock has absolutely adorable Halloween t-shirts that you're going to want to check out for your little one. Some shirts are "blinged out", while others have cute designs, with most having the option to personalize with your child's name. My daughter is nicknamed "The Diva" and loves bling, so I am instantly drawn to those!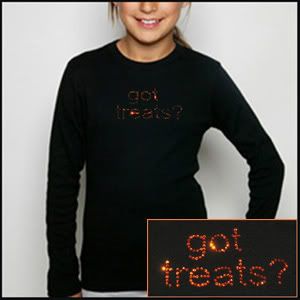 Kids T-Shirts Rock also features Birthday T-Shirts to help celebrate your child's big day! I found the perfect t-shirt for my son's birthday next April! His nickname is "Little Dude" and what did I find at Kids T-Shirts Rock? This t-shirt that I'm just going to have to have!
I love the selection! I love that they can be personalized! Kids T-Shirts Rock is a trendy store that can add some unique pieces to your children's wardrobe!