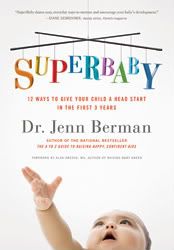 My husband and I welcomed our second child to the world in April. He has been nothing but an easy, happy, loving baby and he just makes everyone smile. I can't say the same for my daughter when she was his age. She was colicky and demanded to be held 24 hours per day for the first several months of her life. She didn't sleep through the night for the first two and half years! Needless to say, I often took her behavior personally and wondered what I was doing wrong. She is now almost seven years old and is such an amazing, intelligent, and happy child. We obviously did something right, right? :)
Even though my son has been pretty easy and my daughter is doing very well, I have still thought in the back of my mind, "Am I doing a good enough job with my son?"..."What does his future hold?"..."Will my children become happy, successful, and productive adults?"
The Sterling Publishing Co., Inc. was kind enough to forward a copy of
Superbaby
- 12 Ways To Give Your Child A Head Start In The First 3 Years
for me to review. Superbaby was written by Dr. Jenn Berman who also authored
The A To Z Guide To Raising Happy, Confident Kids
. Superbaby provides parents with information that will help foster the development of secure, strong, and trusting relationships between parents and child.
When the book first arrived, I was a little nervous that I wouldn't be able to finish reading the book in an appropriate timeframe, but I was pleasantly surprised. Dr. Berman's writing is easy to follow and I read it quickly.
Each chapter of Superbaby focuses on one of twelve areas that affect an infant's development, including
"respectful communication, responding to cues, creating security and predicatability, the importance of touch, promoting language development, sign language, foreign language, the importance of play, reading, screen (tv) time, reducing exposure to toxic chemicals, and eating & nutrition. You'll learn:
Easy steps to reduce resistance and avoid tantrums
The two "Qs" parents need to know about to promote language development
The truth about learning toys and videos
How to use play to develop key social, intellectual, and emotional skills
When and how to start reading to your child
The three ASL signs that will make your baby's life easier
The seven most important ingredients to avoid in your child's food
How to teach good sleep habits from the start
Simple ways to reduce toxic chemical exposure at home"
Some of the concepts were quiet familiar for me, either from parenting books I have read in the past or from my graduate school courses years ago. For example, I am well aware of the different types of attachment relationships that can develop, the importance of reading cues, and how touch can improve the overall health of a baby. However, I loved that Superbaby discussed sign language, baby massage, and green living. These are definitely areas that are weak for me. I would like to start paying more attention to these areas because they would obviously benefit my son.
I would strongly suggest Superbaby whether you are a new mom or whether have more than one child. I feel as though reading this book has reinforced my previous knowledge as well as given me suggestions for what I could do differently. I know there is no such thing as a perfect parent, but I believe that if I follow these suggestions, I would be a pretty good mom and I think we can all agree we want to be good parents :)
Disclaimer: I was not provided with monetary compensation for this review. However, I was provided with a free product to keep. The opinions expressed here are solely my own.