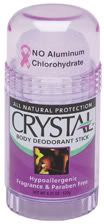 I know many of you are really interested in learning about and using natural products as well as saving money (really, who isn't interested in saving money? :)) That's why when I read about the Crystal Body Deoderant, I immediately thought I should share it with you. Everyone needs to wear deoderant! I sweat, you sweat, everyone sweats...The deoderant I currently use works for the most part, but there are times when I notice that it's failing me. Also, how many of you have tried to put it on only to find that you have put white marks on your clothes? This happens to me all the time!
Crystal Body Deoderant is the original mineral salt deoderant (established in 1984) that will help prevent unwanted and embarrassing odor ALL DAY LONG using only simple and natural ingredients! The mineral salts create "a buffer between your skin and odor causing bacteria". If you would like to read more about Crystal products, please visit:
http://bit.ly/O2Ocrystal
.
Other really cool tidbits about the deoderants include the following:
• It goes on lightly, won't leave white marks, and it won't stain your clothes!
• One stick lasts ALL YEAR LONG! (YAY! It saves money!)
• One application is enough to last a whole day. It doesn't need to be reapplied!
• It's endorsed by Cancer Treatment Centers.
• It's rated safest in the Skin Deep Database/Environmental Working (www.ewg.org)
• Compact Signer of the Campaign for Safer Cosmetics
• It has never been tested on animals! Crystal is a member of Leaping Bunny.
The Crystal Body Deoderant is unscented and is available in 4.5 ounce Stick, 2.25 ounce Roll-On, and 4 ounze Body Spray. Crystal essence (the lightly scented in Pomegranate, Lavender, White Tea, or Chamomile & Green Tea) is available in a 2.25 ounce Roll-On and 4 ounce Body Spray.




Where can you find these deoderants? They can found in 28,000 stores nationwide, including Walgreens, Rite-Aid, and CVS.


CVS is having a discount for a limited time only that began on Sept 1st.
• $1 off the Crystal Body Deoderant Stick (http://bit.ly.crystalstickCVS)
• $0.50 off the Crystal Body Deoderant Roll-On (2009 Winner - All-Time Top 10 Classic Best of Beauty Award by Better Nutrition) (http://bit.ly/crystalrollCVS)
• $0.50 off the Crystal essence Pomegranate Roll-On (2010 Winner - Best Natural Deoderant) (http://bit.ly/crystalpomCVS)


Here are a few links to the products located at CVS:




Crystal Pomegranate Roll-On at CVS:

http://bit.ly/crystalpomCVS *The One2One Network has provided me with this information and I have been entered to win a giveaway for a gift card for posting this information.