Besides American Girls dolls, my daughter has a major obsession with horses. She draws pictures of them, reads books and magazines about them, plays with horse stuffed animals, and even places her brother on her back and gives "horsey rides". We live in a small suburban town that is full to the brim with horse farms and she takes riding lessons during the summer.
Needless to say, when I was presented with the opportunity to review Horses 3D for the Nintendo DS, I jumped at the chance. I knew she would be thrilled! My daughter often hovers while I unwrap packages of products I'm reviewing with intense curiosity. Once unwrapped, I held up Horses 3D and the squeals of delight began!
My daughter has been playing Horses 3D for the past two weeks with intense fervor. Obviously, she loves the game because its focus is horses, but I asked her what she likes about the game in particular. She loves that you can care for so many horses. She also loves the fact that it's in 3D, which is so different from the other horse games she owns.
More about Horses 3D:
Players can manage more than 16 horses – caring, training, and riding them!
The game can be played in 2D or 3D.
The game features four different equestrian disciplines, each of which has its own rules and goals.
• Equestrian Vaulting
• Show Jumping
• Dressage
• Cross-Country
Players can participate in other activities, including Forest Patrols, Races, and Horseback Tours.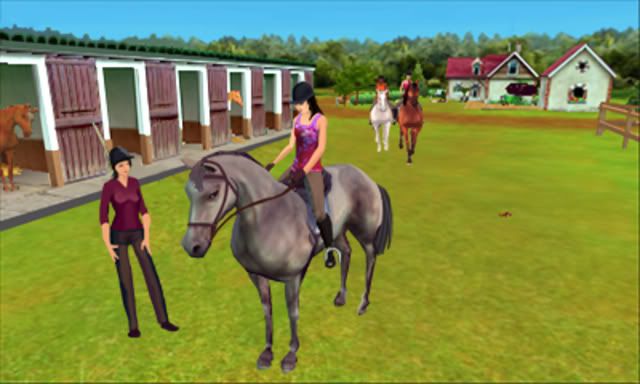 My thoughts about the game:
I have to say that this game is pretty fun! I don't often have the opportunity to play with my daughter's Nintendo DS and this was a treat. I think the graphics are great! I am still trying to adjust to using 3D games, so I flipped back and forth from 3D to 2D and back. I can see why my daughter enjoys this game so much, it is perfect for all kids that love horses. You can care, train, and ride horses and imagine what it's like to do this in reality!
Horses 3D can be purchased at
ToysRUs.com
and
Amazon.com
.
*Disclaimer:
Thank you to Ubisoft for sponsoring this blog post. Please click here to learn more about Ubisoft. I was selected for this sponsorship by the Clever Girls Collective. All opinions are my own. #UbiChamps