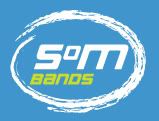 I believe strongly in the power of the mind. I spend a great deal of time talking to my students about how their thoughts are connected to their feelings which affect their behavior. It's a quite a cycle! I recently discovered SOMbands, which stands for "State of Mind" bands. I have to tell you I was instantly intrigued! I loved the quotes I read on their website:
"We can overcome life's most challenging obstacles by changing our state of mind"
"It's time to get out of your head and start living"
Lauren Jones, the creator of SOMbands, has designed wristbands and t-shirts that when worn, encourage a positive mood. The wristbands and t-shirts come in four different colors, each representing a different feeling or focus for the person wearing them. The colors (Red, Green, Yellow, & Blue) were chosen based upon research conducted in the past on how certain colors illicit certain feelings in people.
Here are the meanings for the four colors:
RED

gave the most universal associations of strength, vitality and activity.

RED

= passion, most attention, strength, energetic

GREEN

is a cool color that symbolizes nature and the natural world. It also represents tranquility, good luck, health, and jealousy.

Green

is often used in decorating for its calming effect.

BLUE

calls to mind feelings of calmness or serenity. It is often described as peaceful, tranquil, secure, and orderly. It can also lower the pulse rate and body temperature.

YELLOW

has a dramatic effect of energizing you with 'happiness' vibes. Yellow= optimism, joy imagination, friendship, hope sunshine, summer
The wristbands ($5.99) and the t-shirts ($28.00) address PAIN, FEAR, HAPPINESS, & AGE.
They are based on the colors above.
Pain is just a state of mind
Fear is just a state of mind
Happiness is just a state of mind
Age is just a state of mind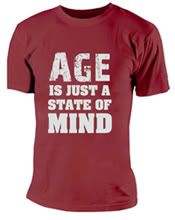 I was very lucky to have the opportunity to review the
Happiness is just a state of mind
bracelet. I've worn it every day for the past week and it has been such a conversation starter with my students! Co-workers have asked about it and have loved the concept as well. It is really easy, as I'm sure most of you can agree, to get bogged down in the stress and chaos of family, work, maintaining the household, etc. I love wearing the reminder for me to "Get out of my head and start living". LOVE IT!!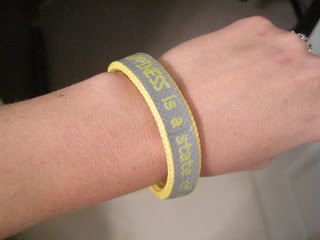 SOMbands has offered to sponsor a giveaway!
SOMbands is offering for one of my followers to win a
Happiness is just a state of mind
wristband!
If you would like to enter the giveaway,
ENTER HERE
!
This giveaway is open to US residents aged 18 and up and will end on October 26, 2010 at 11:59pm EST. I will use Random.org to choose the winner. Once the winner is notified through email, they will have 48 hours to respond.
Disclaimer: I was not provided with monetary compensation for this review. However, I was provided with a free product to keep. The opinions expressed here are solely my own.